OK had done some research in how to change the brake pads and Hey ho gave it a go today, The plan was just to replace the brake pads today and do some Painting/Undersealing in the wheel arches.
Well I got the rear calipers off far too easily and was feeling far to chuffed with myself
that whilst they where off I ended up painting them along with the other painting I was already doing at the time. So got a bit carried away with the painting part of the process (as you will see) Replaced with new brake pads cleaned everything up and got wheels back one
WOOHOO !!!!
remembered to take a pic after i'd already got into things LOL
Before I got really carried away with the black paint
And one just before putting the wheels back on.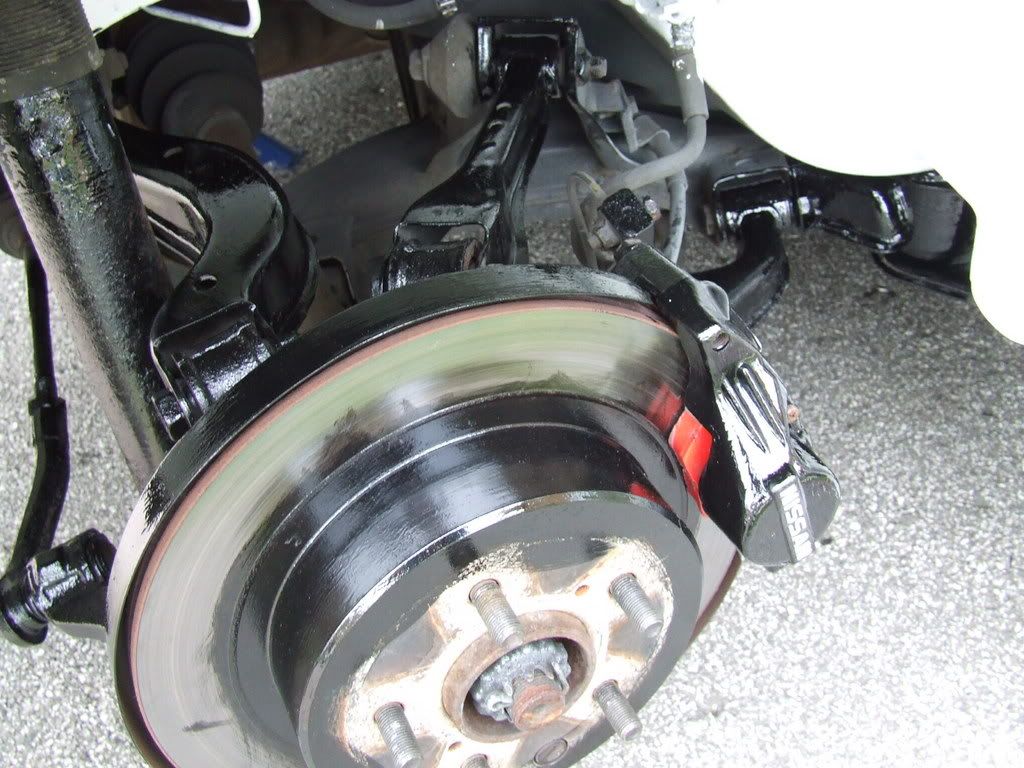 Now whilst I was waiting for paint to dry I had changed the air filter and fuel filter and all was going sweetly.
Until I came to the front Calipers, First one I attempted was tight as hell, so got the WD40 out and eventually with the help of a mallet got the 19mm nuts off, Excellent now to remove the caliper ( i had not noticed the brake lines where solid rather than like the rears and rubber) So as I wiggled the caliper to get it off the disc the whole lot came away, Disc and caliper dropped off along with a sheared brake line DOH !!!
So now I have no brakes and no fluid LOL No biggy I just stocked up on some to do a change anyway but I wasn't quite expecting it to go this way. OK moment of Panic couldn't get the screw out of the caliper with the broken pipe inside
( plus where the hell am I going to get a set of these from) Spanners where rounding it off WD wasn't doing enough, In the end slid a socket down the pipe onto the nut and hey presto it came off YEY !!!
OK so now everything is in peices, Painted the caliper fitted the new brake shoes and fitted that all back together only thing left was the brake line ?????
My Dad had just dropped round at that precise time to give me a parcel that had arrived, After looking at what I had done Asked where Nissan dealers where ( ERM CLOSED DOWN) Ok he went on his way to Motorsave, rang me about 10mins later, There making you some up will be about £3 :smoker: comes around 5 mins later with new brake pipe
So with some small adjustments thats now back in place.
So Monday I will be doing the other front caliper and have the joys of getting the car rtefilled with brake fluid, Not looking forward to that part.
THAT WAS MY DAY !!!