Hi everyone,
Thought it was about time i introduced the car i am working on and do a build thread. As some may know i had an R34 GTT in black before which i spent a lot of money on and id finally finished last year.
Then this little gem came up for sale at Christmas time. She was everything i wanted from the start for the perfect base to build from but i couldn't find any for sale back in 2014 and i even tried to import one but as there so rare and many are 4 door auto, i had no luck. I think one high mileage one came up but was sunroof and gazillion mileage.. so anyway, I took it as a sign what with her being for sale 9 miles away and decided to sell up, buy the GT-4 and start again basically
Selling the Black GTT happened quite quickly which was nice as there's no telling how fast these sort of cars sell but off she went to London with her new owner. So now it was time to start preparing the car for the build.
This GT-4 is a very clean example, 83000km and un-registered so il be the first and hopefully only owner of this car for a longgggggg time to come.
Was it the plan you ask?
Well what would anyone do with a 4wd manual NA R34 Skyline? Drop a forged monster into her, genuine R34 GTR body conversion and bring her really to life!!
Power should be just over 600bhp according to the spec of the engine, the turbo and mapping on 99 octane. I'm confident it'll hit this no problem
Weight will be around 1390 -1410kg without driver, so power to weight is going to be roughly 420 bhp per tonne.
As the black GTT was going, i decided to strip all the GTR body and hard to find bits i knew i wouldn't get my money back on, plus i didn't fancy having to track them down again. My Brembo GT brakes for instance were nearly £7000 for front and rear and i wanted these on my new beast as they are the best brakes iv ever used.
Some items i found were pure luck, right place right time, a bargain and some even from Yahoo random auctions.
To start with, I had a dilemma with the car as I wasn't sure which to do first.. Engine conversion or the body.. Some prefer the mechanical side first and the bodywork last but my Friend done the bodywork and hes very very good at what he does, however he never keeps to his schedule, so i thought i would do the time consuming parts first.
The 4 week paint turned into just over 6 months so i am glad thats over with now. Hes a great guy and a personal friend. His attention to detail is superb and no job is too big for him. Part and parcel why he is always flat out.
Anyway, Here's the car, Everyone meet Aurora. My 98' R34 GT-4 manual coupe. These cars do not come about often and with her being a factory manual 4wd R34 coupe and added bonus of no sunroof, I would say she is very rare indeed. The silky smooth Rb25NEO NA engine in this car is so quiet also. It's a shame its being removed as it would probably have gone on forever.
She is very very clean, next to no rust that i could see, just a little bit on the exhaust but this is going anyway. Body is immaculate as is the interior however the radio console trim has some scratches and gouges which is weird, so i will have to remove and have repainted to match the rest of the trims. Iv had a Yellow R34 GTT and a Black one in the past.. so this time having Silver is a nice change.
I know most people are Bayside blue this and MNP that but for me i like the underrated colours like WV2, KR4 and GV1
She is currently KR4 which although is a lovely color, i have decided to do a M spec Nur conversion and have the car repainted in WV2 Sparkling Silver. 19inch Bronze CE28N wheels, Carbon oem middle lip, Mines rear wing and clean body lines.
*
Brief spec for the plans ahead
*
Engine
: Fully built, Forged RB25DET NEO bored to 2555cc with 4.3 ratio, Garrett G25 660 fully top mount with the works (More info on that further down)
Brakes
: Brembo GT 6 piston Monobloc front and Brembo GT 4 monobloc rear finished in Silica Breath Gold with Gold edition 2 piece Brembo GT 355mm brakes front and rear
Drivetrain
: 4.3 Ratio with Carbon ATS 1.5w rear LSD, Stock front diff, Nismo Super coppermix Twin plate clutch
Engine management
: Link G4+ with air temp sensor, map sensor and wideband
Turbo Setup
: Garrett G25 660 72. Housing with Top mount JDM Garage / Walton manifold, 45mm EXT Wastegate and screamer pipe
Fuelling
: ID1000 injectors, Wahlbro 450 LPH pump, to be Mapped on Momentum 99
Cooling:
R34 GTR Trust Greddy 23F 100mm Front Mount Intercooler, Trust Greddy 50mm Aluminium Radiator
Stainless cooling panel painted Millenium Jade
Exhaust
: Tomei Ti Expreme straight through to the Manifold
Handling
: Tein Flex Z coilover suspension with really nice spring rates for comfort / fast road. Nismo sway bars, Nismo bottom arms, Nismo Tension rods. Polybushed rear arms.
Rims and Rubber
: CE28N 19 x 9.5 ET12 front and 19 x 10.5 ET12 Rear anodized bronze with 285 35 19 Michelin Pilot Sport 4S all round. Anodized green lug nuts
Interior
: Plans are Leather heated Corbeau or Recaro seats with matching rear seats refinished in Black leather, Black alcantara door inserts, Rooflining, Boot lining and silica breath finished center console and radio surround, OEM GTR gearknob, Black Alcantara gaitors, Black Alcantara OEM steering wheel with Silver stitching and S15 airbag with custom logo on. Top secret Gold stitch mats and boot mat
ICE
: Nismo Speedo clocks, Custom MFD, SAT NAV, DAB, TV and a Bluetooth MP3 Pioneer touch screen monitor to bring the car up to date.
Extras
: LED Rear tail lights, Factory Xenon front lights, Clear indicators and amber side repeaters. May upgrade to Nismo smoked soon.
Sneak peak picture
[/B]
Part 1 - The Heart
Before the car went to paint i decided to have the engine built at the same time, so it was ready when i wanted it. I wasn't sure on the time frame for all this so i decided to have this done while the car was having the body done.
Luckily, I had located an engine for this car before i bought her as i needed to know in advance it wouldn't take months to find one as my plan was never to go the RB26 route. Luckily Paul at JDMgarage had exactly what i was looking for. A low mileage, 4wd Rb25DET Neo that was very clean condition inside and out.
I had various options engine wise to decide what way to go.. RB26, R34 GTR RB26, RB30 etc. Well I've always been a big fan of the RB25 Neo as they respond very very well to tuning, share quite a few characteristics of the RB26, have non of the flaws of the original Rb25 and are of the newest of the RB's production wise. They are also a very good price and i got mine for £2k.
Originally i didn't plan on forging the car. My plan was a full engine refresh, Cambelt, Water pump, N1 oil pump, Otaku front facing manifold, high quality ancilleries, and go for a safe 500bhp -/+ on a stock engine but seen as the engine was in bits in pauls workshop i decided to forge for the future. Its a good job i did though as iv gone for a 650bhp turbo so atleast i know the engine is built for quite a bit more.
The spec i have gone with is as follows:
~ RB25DET 4WD fresh import engine
~ Fully Forged and replenished
~ CP Pistons 86.5mm
~ Manley Performance H rods
~ Tomei Poncams type B
~ HKS purple cam pulley
~ Siruda 1.2mm MLS headgasket
~ Siruda valve stem seals
~ Mishimoto thermostat
~ ACL Main bearings std size
~ ACL Rod bearings std size
~ ARP main studs
~ ARP Rod bolts
~ N1 oil pump
~ Nissan water pump
~ Dayco Cam belt kit
~ Crank collar modification
~ Block and head machined, painted and prepped
~ ITE rocker cover gaskets
~ Superforma half moon seals
~ Superforma coilpacks
~ NGK Copper sparkplugs
~ Titan PRO S 10w60 Race oil
Turbo and kit
~ Garrett G25 660 72. Housing (standard rotation)
~ JDM Garage /Walton top mount manifold
~ 45mm Hypergate Black
~ Custom downpipe into screamer
~ OEM Nissan gaskets
~ Custom oil, fuel and water lines
Fuelling
~ ID 1050cc Injectors x 6
~ Walbro 450LPH fuel pump
Inlet side
Garage Otaku manifold with 90mm throttle body in Satin Black
Custom throttle body cable
Custom work
RB26DETT Rocker cover set painted in Millenium Jade JW0
RB26 on the rocker cover painted satin white
Gold anodize rocker bolts
Tomei or RB26DETT NUR ornament to be put on (haven't decided yet)
Custom oil cap
As the engine is now complete and ready to be fitted, i have put it on ice at the moment until i have time to have this fitted. I am currently in the middle of another venture so it will be a few months before i can proceed with the engine conversion.
Part 2 - While the engine was in the middle of being built around Mid January, It was time for Panel stripping the GTT and transferring the GTR body parts over to the GT-4
Test fit is to be as expected.. spot on minus the skirts and rear quarters. Certainly changes the cars appearance put it that way
Sitting quite high on those 18's but we needed to put them on as the old wheels wouldn't clear the Brembo GT brakes
5 months later in the bodyshop.. Things start happening and the Painting is finished, Rear quarters perfect and everything lined up nice just need to build the car back up.
These quarters are the sex. Nothing compares to original!!
Color of the car is undescribable.. WV2 is one sexy colour changing shade. Glitters in the light and goes gunmetal in the dark!
Doors, Bonnet, Mirrors
R34 GTR front bumper, Boot lid, Carbon Lip
Shes starting to look like a car again <3 <3
Part 3 - The CE28N wheels
~ Fronts are 19 x 9.5 ET12
~ Rears are 19 x 10.5 ET12
~ Tyres are 285 35 19 Michelin Pilot Sport 4S all round
Finish on the wheels is outstanding and should really complement the car when its finished. Something about Silver with bronze wheels on a Skyline.
Part 4 -Tein Flex Z coilovers have arrived and are now fitted and adjusted
Suspension was a tough one for me as i had previously had meister R and although i couldn't fault the build quality, I just didn't like how hard they felt. My previous GTT was a very harsh drive round town compared to my M5 and after adjusting them and trying to run them soft, they just became bouncy and unpredictable handlingwise.
So this time i decided to go for something with a softer spring rate for more comfort.
My cars never see the track and its only ever fast road for me, so comfort is just as important as road holding.
I decided to go with TEIN Flex Z which i acquired from Conceptua Tuning. they come with 7kg front and 5kg rear spring rates and i must say the ride is very very nice. I also love how they are JAPAN made in Yokohama which is a nice touch.
The car has been setup but i will be tweaking the front a few clicks to drop it a bit more to match the rear. Just letting her settle at the moment. I will also leave the comfort in the middle, i may even add EDFC later on.
I strongly recommend these for anyone who wants great road holding and also comfort.
Part 5 - R34 GTR Tomei Ti Expreme exhaust has arrived courtesy of Auto extreme
Can't wait to see this exhaust fitted. I have wanted this exhaust for years!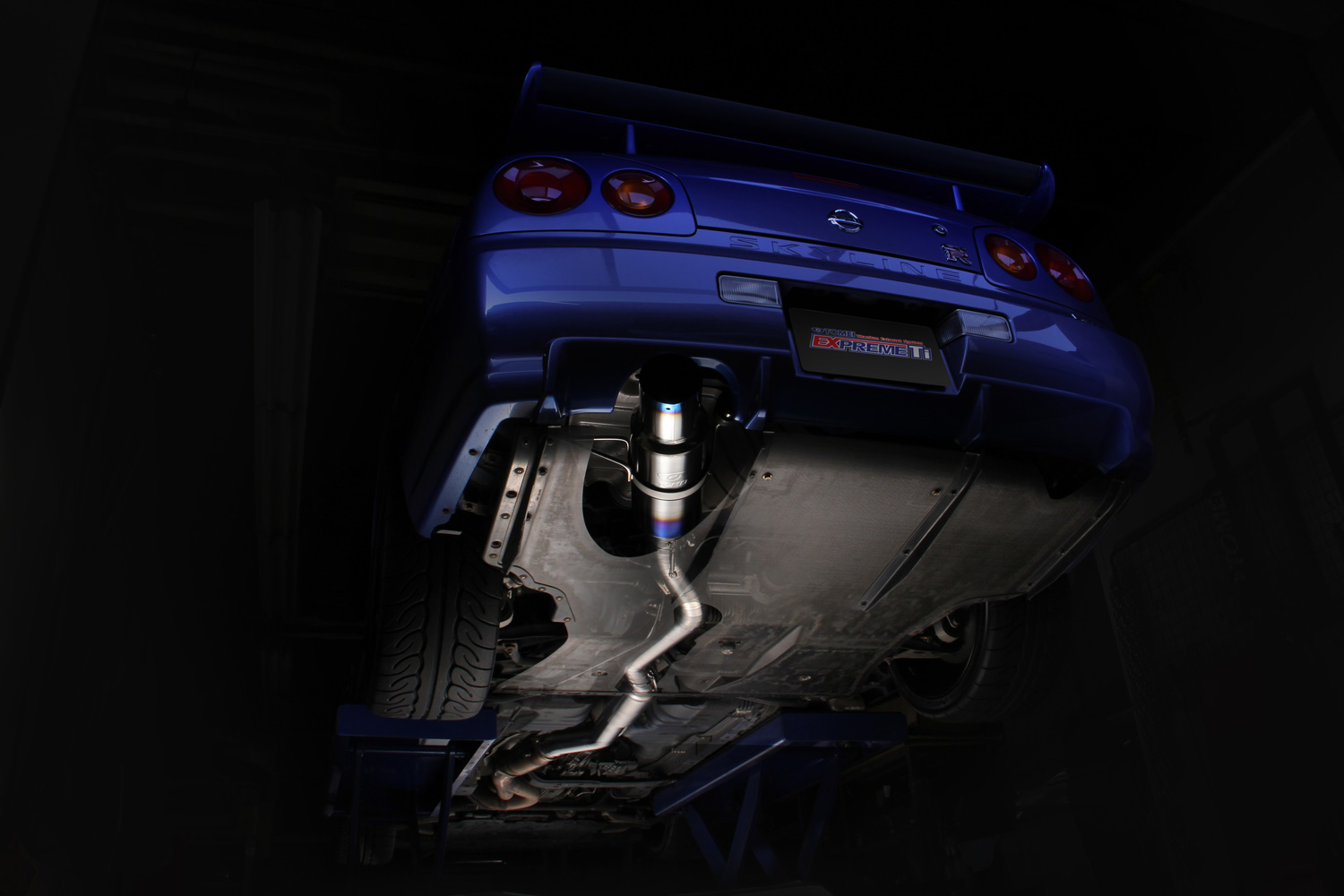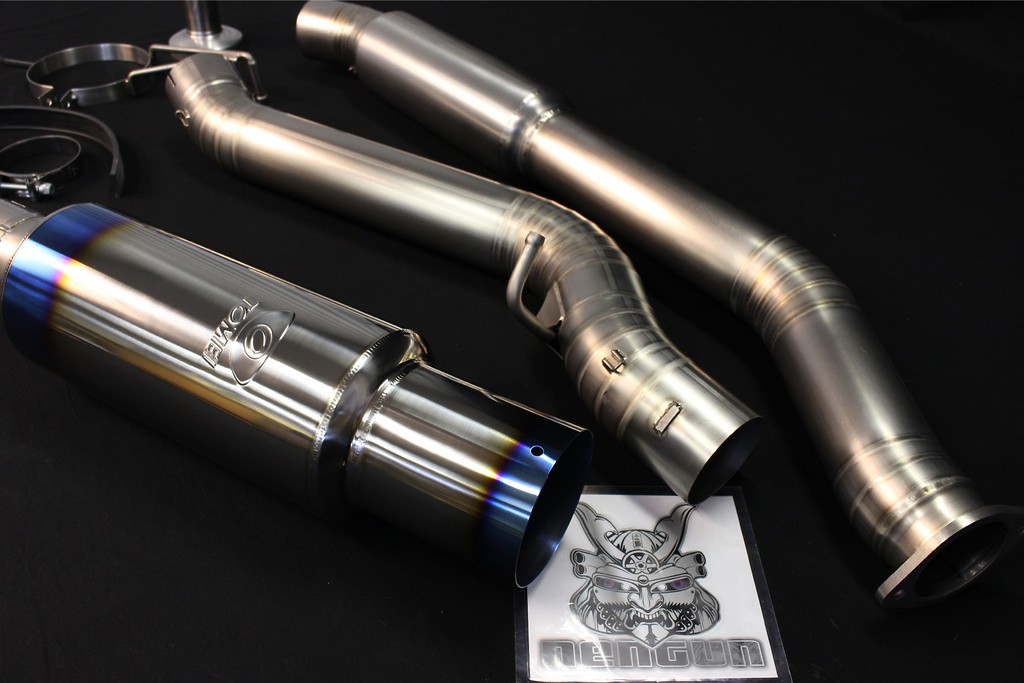 Part 6 - Back at the paint shop, The Exterior is Complete and the Car is built up, freshly machined and waxed
Still some finishing touches but she looks amazing. Really pleased with how she has came out!
The cars having all its plastic trims painted next, but we ran out of time so this will be next month when I'm back from holiday. Window trims, deflectors removed, scuttle panel, wiper arms and anything plastic or rubber on the exterior will be refinished in a subtle satin black to bring the car detail to 100%.
I'm also fitting the arch liners soon also.
Coming up...
Brembo GT Brakes are refinished, Re-fitted and look epic in Silica breath with Black Brembo logos. Will upload more pics shortly of these in more detail as you rarely see these
Interior plans..
- Black Alcantara door inserts, rear parcel shelf, roof lining and boot trims are all being done in the next few weeks ready for the new seats to be ordered and fitted.
- Rear seats to be re-trimmed to match the front seats.
- Steering wheel is currently being sent off to Royal Steering Wheels London for the retrim.
- Zoom engineering kevlar interior mirror and mirror arm
- When i have done the interior, I will load more pics to show the special touches i have added. Lots to do in the cabin so should keep me busy.
Stay Tuned!!!!