95 reg r33 gtst spec 1 ..spec 2 engine
58500 on the clock
mot runs out in april but ill put a new mot on it for the buyer.
taxed till may or june ( keep forgetting to look)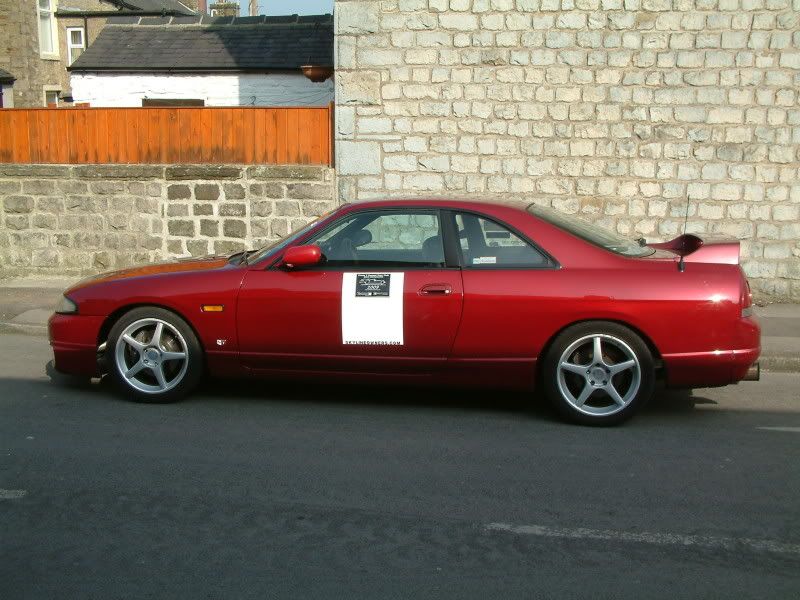 ive had the car 4 years now and its never let me down apart from me fouling the plugs last weekend lol. its not the prettiest of skylines about as its been more of a playing out toy and for motorsports than as a daily driver, although it is driven daily.
its been track dayed sprinted and drifted.
the bodywork is rust free, but its been keyed a couple of times and there are marks on the bonet where local kids have been
sat on it (little
[email protected]
) front bumper is also fadeing. pasenger side wing mirror was kicked off some years ago. my repair
lasted 2 years and now its taped up.
im lookig at 6 points to add to the 3 i allready have so the car has to go due to insurance costs escalating.
good bits
its cheap
its been mega reliable
its got a lot of the right bits on it for a stage 1 car
very drifty (lex from dwyb has drifted it and said it was a sweet car)
roughly 320 bhp atf
bad bits
it looks a bit sheddy
once warm the tickover hunts after its been stood for a min or so. (i suspect its the ebay lambda sensor)
the welded dif makes it sound nakered if your in asda car park and people stare at u.
spec
engine..
rsp stage 1 ecu
apex fmic
apex cat back single box zorst
de cat pipe (with original cat for mot)
turbo elbow ss power??
down pipe jap speed (i think)
apexi style induction kit
front facing plenum mod done (cut off and weld on kind)
iridium plugs
manual boost controler
handling
ksport coilovers all round
apex front adjustable tie rods
rear adjustable camber arms
standard alloys with good tyres
17 inch alloys 8,s front 9,s rear with good tyres
locking subframe collers
front and rear strut braces
driftworks hicas lock out bar
tramsmision
welded diff plus the standard one as a spare..
inside
semi stripped ..
back seats gone
carpets gone
rear seatbelts removed but i still have them
rear parcel shelf still in
boost guage fitted to stearing binical pod
good mp3 sterio cd/usd port rear 6x9's plus front speakers all same make.
outside
pretty standard apart from i moded the front bumper to fit the fmic wich included ditching the indicators and fitting led
ones.
white stickers on doors for race numbers.. (these will be off in the next few days)
so....
if you search LA8RAT on youtube there are 3 vids of the car in action.. (yes i know im a 5hit driver :0) lol)
im wanting £2700 thats got to be a steal.. so no silly offers please..
i would take a saxo vtr/vts plus cash as a p/x (cheaper insurance and i want to try autosolos comps)
phone 07832936641 simon
£2700