Discussion Starter
•
#1
•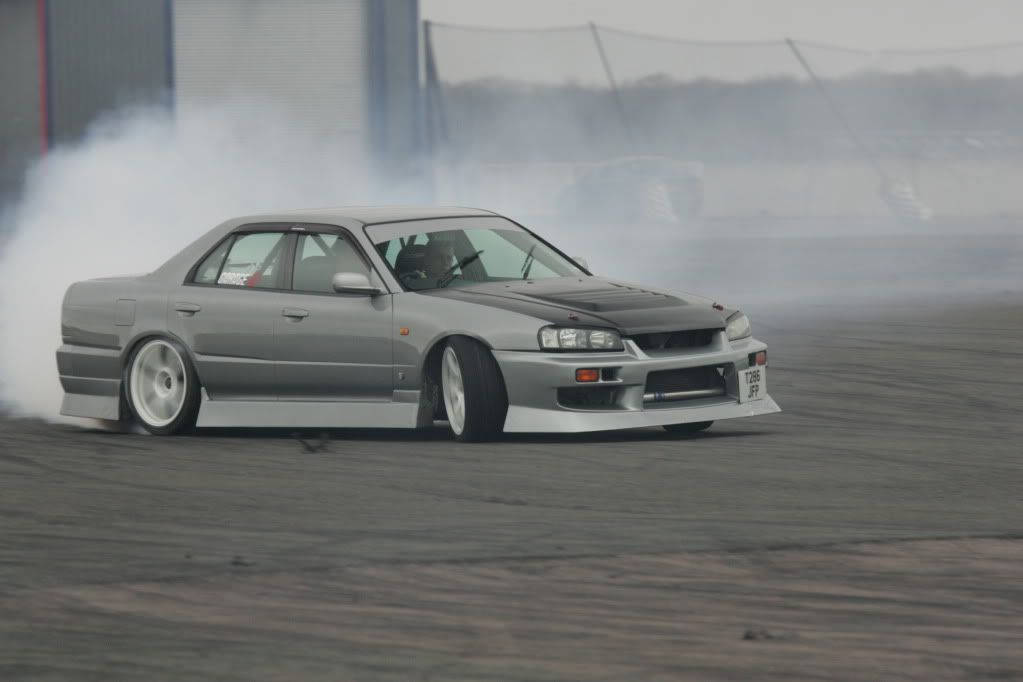 DriftWhatYouBrung is a day at Santa Pod Raceway aimed at those who want a safe place to practice the basics of drifting without fear of kerbs or the cops
Free tuition is available from any of the DWYB marshals who are happy to give some pointers - many of the fresh starters who have attended so far have been able to link the whole track by the end of the day
At the end of the day there will be a chance for DWYB licensed drivers to qualify for an ODC slot
To ensure Minimum queue time,maximum seat time (tm) there is enough space for :
1 x Large Main DWYB Track - based on EDC 08 layout
1 x 'Kidney' DWYB Demo Track
3 x Newbie play pens for fig 8s, donuts etc
Details
60 cars maximum - 50 in advance and 10 slots available on the day
Marshalled
Gates open from 8.30am to 5pm with drifting from 9.30am to 4.30pm - no lunch break
110db Noise restriction
Twinning
Helmets recommended for DWYB advanced track only - not needed for playpens or kidney
Full Tyre changing facilities : £5 per rim + £2 disposal if needed
There are toilet facilities on site
Sue's Cafe will be open from 9am til 3pm
Booking
£60 per driver - booking ONLINE direct with Santa Pod here :
Santa Pod Ticket Shop
or
on phone 01234 782828 - the ladies on switchboard wont know any more info than is on the website so best off asking any Qs on here
Booking early is advised as every DWYB last yr sold out 2 weeks in advance - Online booking close at 5pm on day before
If you make a booking and are unable to attend you will be given a credit for a future DWYB date by phoning Santa Pod and arranging to return your ticket by post - sorry no refunds
£10 for spectators on the gate
Bring with you..
As many spare tyres as you can fit in the car
Jack and Tools
Petrol can
Baby wipes
Warm clothes
CableTies
Driver's Licence for sign on
If its your 1st Drift day make sure you read this thread by Paz Basic Drift Day Prep
DWYB website with future dates : DWYB - Drift What Ya Brung
FAQs
How many tyres do i need ?
Lots - rule of thumb as many as you can fit in car. There is nothing worse than being at drift day with a working car, empty track and no tyres
Where can i get tyres from ? Rent spare rims ?
Contact the chaps @ MINT TYRES.COM
Can my mates come out for passenger rides ?
Yup
How much does it cost ?
It costs £60 in advance per driver
Can i pay on the day ?
Yes.
Is it fully booked yet ?
Once full i will post up 'Fully booked '
Help it has sold out - what do i do ?
We hold back 10 tickets at every event as people often do not turn up. Advance tickets are £60 - Pay on day £70
Help i have booked but my ticket has not arrived ?
If your ticket does not arrive in post in time just collect one from main office before you drive up to track
Help my car has died / i got arrested / my GF is expecting / i crashed so i cannot make it - what should i do ?
Phone the pod booking office to arrange to get a credit for a future DWYB
What will the weather be like ?
Check - WeatherForecast
What happens if it rains ?
DWYB will run regardless - you will use less tyres and more petrol
I want to have a go at the EDC 08 track but not sure about it ? HELP!!!
Just ask one of the marshals who will hold back the queue and let you out for a few laps at your own pace
I cannot be bothered to read the 1st post so i'm going to ask a question that has been covered in the 1st post. I need the post count !!
Please do not be shocked if you are teased as a result. Its all about the seat time , not the post count !1!11!!1
Do i need a welded diff / Fancy JDM 2-way ?
a diff that locks both wheels will help - however its not vital for you to come along and have FUN
Do I need lots of power/ Stage6.9chip/ SuperDuperHybridTurbo/ 2JZ
Nope.