Discussion Starter
•
#1
•
A few months ago I bought these...
Work Equip 05 (stepped lip version)
17x9 et42 & 17x10 et44
As you can see they were very untidy and the offsets were cramping my style but as they are one of my favourite model of wheel I had to have them!
I set about grabbing as much info on replacing the lips with some wider ones but had no luck sourcing genuine ones so considered having some custom spun but that proved too expensive so reluctantly I went to Image wheels. I say reluctantly only as I've had quality issues with them before but thought I'd try again out of desperation.
Meanwhile I began splitting the wheels down...
Surprisingly they came apart with ease after some air powered persuasion.
I broke out the paint stripper but underneath the rancid matt black was an awful powder coat job. This pissed me off pretty bad as the paint stripper didn't budge it!
I good friend of mine took the centres off me and dipped them for me at his work. What came back was a bit worrying...
Body filler, everywhere!
I assumed it was game over to have them polished but out of curiosity I decided to sand them down to inspect the damage to the surface.
After lots of sanding it turned out that it was only light scratches that sanded out in no time... Some people are so lazy!
Got them sent off to the polishers and the new lips arrived shortly after. My chance on Image wheels seemed to have paid off and with that I picked up my mirror polished centres and started to build them up.
So I went from these...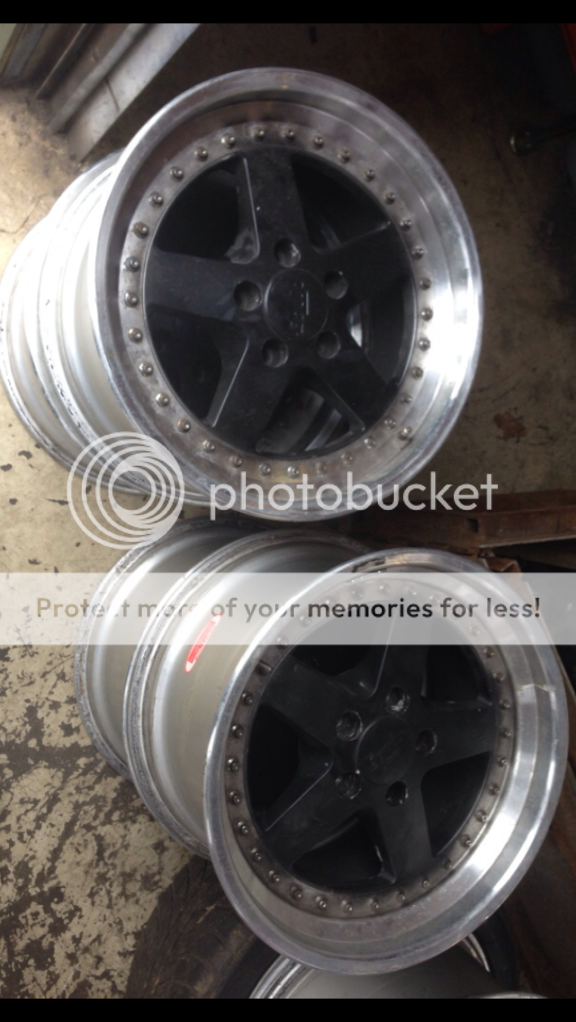 To these...
I couldn't be happier with them, they came out exactly as I wanted them too.
The new specs are...
17x10 et29 & 17x11.5 et25
Only issue I have is that the front needed 20mm spacers to clear the 33 calipers.
So after all the work and money put in, what do you guys think?