Discussion Starter
•
#1
•
Been hearing this sound for a while, when I turn on the ignition, before starting.
Ticking sound from the engine bay. After having boost controller problems; not holding desired boost, after some investigation, it seems it's the boost controller solenoid in the engine bay opening and closing.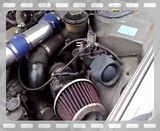 I've checked the connections of the solenoid and gauge to the ECU and they appear to be ok.
Another thing I've noticed though, the rev gauge is all over the place. After some interesting reading on the this here forum, I've read that those kph/mph converters have been known to cause all kinds of problems.
Could my kph/mph converter be causing the boost controller to be flicking on and off, along with the revs gauge going into fits?