·
Highland/North Scotland Area Rep
Discussion Starter
•
#1
•
Once again huge thanks to Dave KG over on detailing world for letting me use his great guides on detailing
www.detailingworld.co.uk
]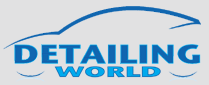 Machine Polishing By Dual Action Polisher
Detailing World Guide Created By Dave KG​
One of the best ways to take your car's paintwork to the next level is to use a machine polisher to remove the swirl marks and enhance the gloss by burnishing the finish. Polishing can be done by hand. However introducing a machine polisher to your armoury opens the door to enhancements not readily achievable by hand – both in terms of correction and ultimate finish.
INTRODUCTION
In this guide we will look at the benefits machine polishing can bring to your detailing and outline the generic steps to achieve the best possible finish. There is much more to machine polishing than simply correction of the swirls and other blemishes – done correctly, burnishing the paintwork with a finishing polish can create a deep and crystal sharp finish which will turn heads at a show. Indeed it can be argued that this is ultimately more important than the correction stages as it is the gloss and depth which are the biggest noticeable changes to the paint finish.
The beauty of a dual action polisher is that it doesn't require years of experience and practice to be able to pick up and use the machine to achieve a good finish. With practice and honing of the technique you can generate a high clarity finish that can turn heads. In this guide we will look at the basic techniques and hints and tips to get you started with a dual action polisher.
An important note: this guide is not polish specific. There are a great number of polishes on the market and each one has a different working technique. This guide intends to cover the basics that will apply to all polishes available. Polish specific guides for the most popular polish ranges will also be available. It is also important to note that every detailer has slightly differing machine polishing techniques – a key to getting the best possible finish is to experiment and see what works best for you. Spend time honing your technique and you will be rewarded for it with the finishes that you can achieve.
WHAT IS A DUAL ACTION POLISHER?
Years ago, the vast majority of paintwork polishing was carried out using rotary polishers with wool or foam "mops". These polishers are still the mainstay of many body shops and professional detailers and when used correctly they can deliver spectacular results. However they have a risks attached to them and require practice to be able to get the best out of them. Owing to their nature, where the pad spins on a constant orbit, a rotary polisher can develop significant heat on the paintwork which can lead to paint burns in the hands of an inexperienced user.
By contrast, a dual action polisher is a much safer tool to simply pick up and use. By dual action, it means that the pad not only spins in a circle, but it also oscillates. This results in a random orbit movement of the pad – sometimes such polishes are referred to as "Random-Orbit" polishers (RO polishers) for this reason. The diagram below highlights the difference between the pad motion of a rotary and a dual action polisher:
The random orbit nature of a dual action polisher means that it generates far less heat than a rotary polisher. It is a more gentle tool so correction work typically takes longer. However it is also safer to use and easier to learn which makes it the ideal beginners' tool.
Some dual action tools such as the Cyclo use two smaller pads which follow the random orbit path above, rather than the single pad of the PC/UDM/G220. These machines are more restricted when it comes to pad size but are still very capable tools when it comes to paintwork correction and finish.
CHOOSING A POLISHER & PRODUCTS
There are a huge array of machines and polishes on the market today, many are readily available through online sellers on the Detailing World forum. This guide is by no means an exhaustive review of all possible products to buy, but rather a generic guide to what is available and some of the manufacturers that would make a good choice.
THE MACHINE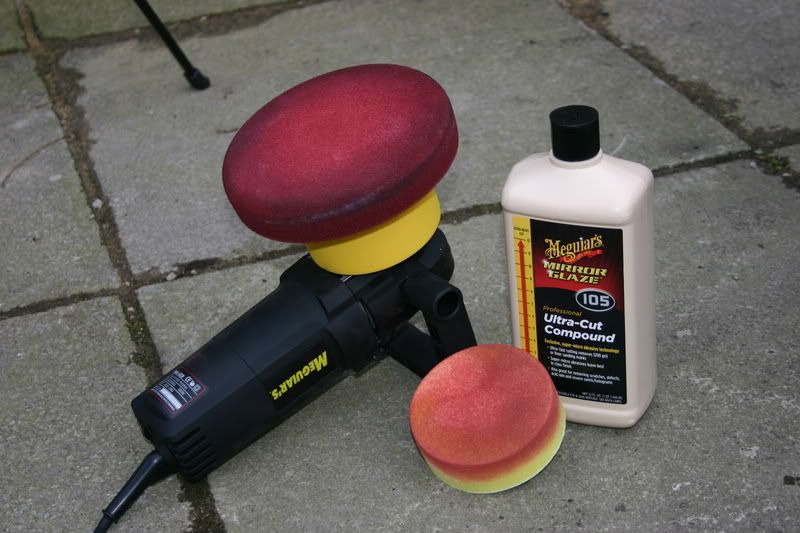 A quick view of detailing forums reveals three major players in the Dual Action Polisher market: Porter Cable 7424 (PC); Ultimate Detailing Machine (UDM); Meguiars G220 (shown in the picture above). However, there are many other products on the market also from manufacturers such as DeWalt. The first three are the most popular owing to the long throw on the pads which is ideal for the machine polishing application. However this does not prevent the other tools from being a good choice also – there is less of a working base for them in the detailing world, but they are capable tools and should also be considered.
Choosing a machine polisher is very much down to personal preference. A recent addition to the market is the Meguiars G220, which out of the "big three", is the only polisher available in 240V spec that you can simply plug into the wall. It also comes with a full UK warranty. Of course, if you are reading this from outside the UK, this is quite irrelevant and the choice will be purely down to the performance of the various tools.
In terms of the correction that can be achieved, there is very little to choose between the "big three" – any of them would make a good choice. Whichever one you consider, be sure to source out current owners on the forum for first hand experiences of the reliability of each of the tools – a topic that is outside the scope the guide. The UDM and G220 are have slightly faster and slightly more powerful motors than venerable old PC – but the PC is a hugely capable tool and in real terms it is just as capable as the other two.
If you fancy a "double-headed" machine which runs with two smaller pads, then there is the option of the Cyclo. Single speed and more restricted on pad size, but these tools are very well built and very capable.
If you choose the PC or UDM, be aware that these run on 110V and therefore you will also need a transformer to run them. The PC requires at least 750VA transformer, a 1kVA transformer would make an excellent choice for either tool.
PADS & PLATES
There are a wide range of foam polishing pads available on today's market that are suitable for dual action polishing applications, in sizes ranging from 4" – 6". Different pads use different grades of foam – this effects the coarseness and density of the pad, which gives it varying levels of cut. It is a good idea when buying a machine polisher to include in your order a wide range of pads to give you as wide a possible selection when it comes to tackling the paintwork in hand.
Listed below are some of the most common foam pads made by a selection of manufacturers. The list shows the manufacturers designation for the pad where applicable, the pad colour, its size and its grade (level of cut).
MEGUIARS
• W7006 Burgandy 6" Cutting
• W8006 Yellow 6" Polishing
• W9006 Tan 6" Finishing
SONUS
• SFX-1 Yellow 6" or 4" Cutting
• SFX-2 White 6" or 4" Polishing
• SFX-3 Red 6" or 4" Finshing
• DAS Orange 6.5" Light Cutting
• DAS Green 6.5" Polishing
• DAS Blue 6.5" Finishing
MENZERNA
• Compunding White 5" Heavy Cutting
• Polishing Orange 5" Heavy Polishing
LAKE COUNTRY (INCLUDING CCS)
• Cutting Yellow 6" or 4" Cutting
• Light Cutting Orange 6" or 4" Light Cutting
• Heavy Polish Green 6" or 4" Heavy Cutting
• Polishing White 6" or 4" Polishing
• Finishing Black 6" or 4" Finishing
• Finessing Blue/Red 6" or 4" Fine Finishing
As with many things detailing, there is a simply mind boggling array of products to choose from! For pads, ensure you have a good range of available grades to use: at least one cutting pad, a couple of polishing pads, and a finishing pad would be good to get your started. The performance of different foams will be covered later in the guide.
You will also notice that the pads come in differing sizes. The biggest advantage of varying sizes is that it allows smaller and larger areas to be tackled with a pad size tailored to the panel. Additionally, the use of smaller pads when compounding with a dual action polisher will deliver a little more cut by focussing the polishing action down more. In order to hold the pad onto the machine, you will need a suitable backing plate – this backing plate must be the correct size for the pads you are using: 6" pads will need a 5-6" backing plate, 5" pads will require a 5" backing plate, 4" pads will require a 3.5-4" backing plate.
POLISH
A key component to machine polishing is the actual polish! You only have to look at a couple of online retailers to know there is a simply overwhelming range of manufacturers all producing a huge number of different polishes. Some of the more popular products from some manufacturers are listed below:
MEGUIARS #80-SERIES
• #85 Diamond Cut Compound Heavy Cut 10/10
• #84 Compound Power Cleaner Heavy Cut 9/10
• #83 Dual Action Cleaner Polish Medium Cut 6/10
• #80 Speed Glaze Light-Medium Cut 4/10
• #82 Swirl Free Polish Light Cut 2/10
MENZERNA
• S34A Power Gloss Compound Heavy Cut 8/10
• PO85RD3.0x Intensive Polish Medium Cut 6/10
• PO91L Intensive Polish Medium Cut 5/10
• PO106FA Final Finish Light – Medium Cut 4/10
• PO85RD Final Finish Light Cut 2/10
SONUS
• SFX-1 Restore Medium Cut 6/10
• SFX-2 Enhance Light Cut 3/10
• SFX-3 Final Finish Light Cut 1/10
POORBOYS
• SSR3 Super Swirl Remover 3 Heavy Cut 8/10
• SSR2.5 Super Swirl Remover 2.5 Medium Cut 6/10
• SSR2 Super Swirl Remover 2 Light – Medium Cut 4/10
• SSR1 Super Swirl Remover 1 Light Cut 2/10
It may be tempting when first starting out with a machine polisher to buy as many polishes and compounds as possible – but in truth, for most general defects on most paintworks, you only really need two products. One medium cutting polish (for example Meguiars #83), and one lighter cutting polish (for example Meguiars #80). On top of this you could add a single compound for more aggressive cutting duties on harder finishes with deeper marring (for example Menzerna Power Gloss Compound). These three products would be plenty to get you started into the world of machine polishing and developing head turning finishes!