Discussion Starter
·
#1
·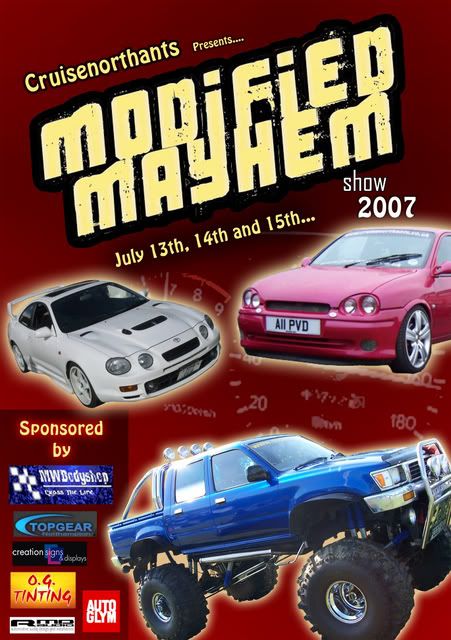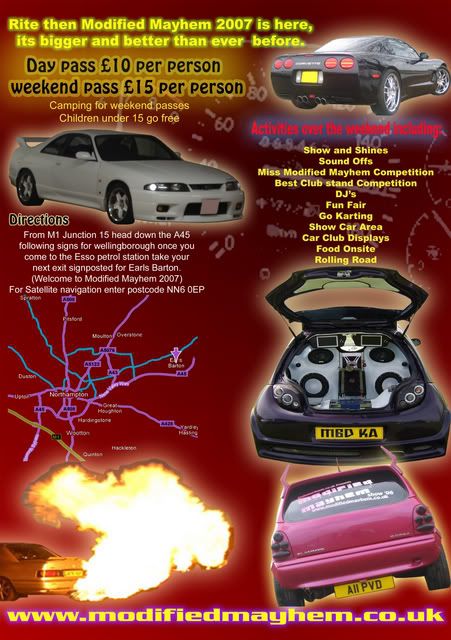 Modified Mayhem 2007 follows on from our great success at last years 2006 show with a great turn out from clubs across the country bringing some of the best modified cars around.
The show this year is been held over a 3-day event running from Friday 13th July until Sunday 15th July.
We have a new set of sponsors on board this year that are very supporting of their local club and are of local business's to our members these being
· Mw Bodyshops
· Topgear Northampton
· OG Tinting
· RMD Audio
· Autoglym
· Creation Signs & Displays
Update on this years Programme:
There will be a number of activities going on over the weekend ranging from:
· Show And Shine on Saturday and Sunday
· Sound off competition by DB Drag & Iasca
· Miss Modified Mayhem Competition over the weekend
· Best Club stand Competition on Sunday
· Dj's and a selection of music from a highly powerful sound setup
·Pole Dancer In the Marquee on Saturday evening for you guys and girls
·Evening entertainment
(Provided by a selection of Sidewinder Records Drum & Bass Dj's)
· Professional Graffiti Artists at work
· Club Truck pulling Competition Saturday
· Rolling Road all day Saturday providing 0-60 and bhp figures of your
motors
· Flame off competition Saturday night
·Fair Ground (Dodgems, Bungee Rocket, Waltsers and a few more)
·Amusement Arcade
·Inflatable Gladiator Duel, and Paint balling Game
·Trade stalls
·Food Catering Vans on site all weekend
·Bar in Marquee throughout weekend
· Remote Controlled Car Racing provided by
www.rc-x.co.uk
and
Tooleys Rc toys of Northampton (visit the site to race your car/truck)
And a huge number of activities going on throughout the day and the evening, not to mention the line up for the evenings entertainment.
There will also be Magazine appearance throughout the weekend.
We have been advertising the show on online forums across the country, at car shows, handing out leaflets, in magazines on cruise sites and will continue to do so up until the event. We also have lined up for the show to be advertised in local newspapers and on local radio stations to bring in members from the general public.
For more details please log onto the forum:
www.cruisenorthants.co.uk
Or
www.modifiedmayhem.co.uk
Hope to see you there
Ps: See April's edition Of Fast Car for last years write up
Ps: Dont forget you can still pay on the gate and if you would still like a club stand pitch please get intouch with me asap to sort this out
Many Thanks
The organisers
[email protected]
Dan 07763901760