Discussion Starter
·
#1
·
Been around here for quite a while now but never really sat down and made a progress thread for my r33 :spank:
Well... it all started back in 2008 when I decided that i needed an r33 in my life
so after a bit of searching around the local area and across the pond in the mainland nothing was taking my fancy, so i decided to go about getting one imported
After a quite a bit of trawling through the auctions i decided to get a bid placed on a white 1996 r33 gtst. Soon after i was informed that the car came up well under my budget
Next was the waiting game, for what seemed like a eternity for the car to arrive :40oz: but this is what i had invested in;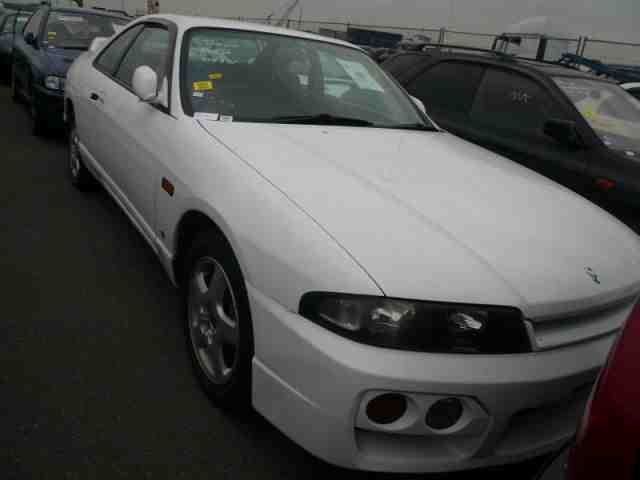 Pretty much bog standard gtst apart from an hks air filter and hks exhaust, perfect base to start working from
unfortunately photos are a bit thin on the ground for the next stage (i thought they were in photo bucket but alas it appears not
)
Anyways. the first thing i did was to get a set of wheels for it, so a set of ultralite GTII's were purchased and everything seemed right with the world..... for about a week when i decided to invest in a set of coilovers to loose the moon buggy stance it currently had lol
Quick call to japspeed and i ended up not ordering only coilovers but a decat pipe and fmic kit :dogpile:
got all of these fitted up and i was content again....for a brief period..... next came a greddy boost controller and a walbro fuel pump to complete the stage 1 mods.
First disaster struck soon after however
when out setting up the boost controller for 0.85bar it momentarily spiked to around 0.99/1bar and i heard quite a loud "Pop" hmmmmmm, intercooler pipe blew off i though, so drove back home roughly 1 mile away just to find that all ic hoses were fine hmmmmm what was the pop??? as the car was idling i started to hear a faint ticking noise.... wtf is that noise..... ticking got louder and louder at which point i phoned the local nissan doctor who immediately diagnosed the ticking as a death rattle, looks like my bottom end has had it. Bugger
So trailered the car up to him and he started about seeing what the problem was , turns out the bloody turbo had blew the wheels clean off itself, and on hearing the pop i let off the accelerator which seems to have pulled all the **** into the engine and spun my bottom end
At this point i went with a conceptua tuning 375bhp turbo and new bearings for the bottom end with a 1.2mm cometic headgasket, got off quite lightly everything considered.
So engine running 100% again it was time to turn my attention to the body work, it was starting to show its age and a bit of rust was forming around the arches etc, so though full respray was the best option.
I decided to go for Toyota 070 pearl white to get a nice brilliant white look and added a Japsalon greddy gracer style front bumper, Jun side skirts and Jun spats.
and it turned out like this
Next up was another power hike :dogpile:
This meant only 1 thing..... TOP MOUNT TIME
JDM Garage were selling a top mount kit off a veilside demo car, perfect timing
so i gave them a call and soon later this little lot had arrived with me;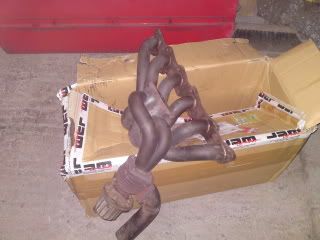 Greddy top mount manifold, hks 50mm wastegate, 1.2mm cometic mls headgasket, bltiz 550cc sidefeed injectors, and a gt3076 turbo.
Schweet
so time to get that all fitted up to see what it was going to look like, que engine stripping number 2 lol;
at this stage i fitted a set of tomer poncams aswell, 256 duration 8.5mm lift, nice plug and play cams, and an hks timing belt;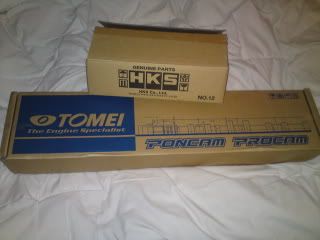 painted the cam covers gold and got the manifold fitted up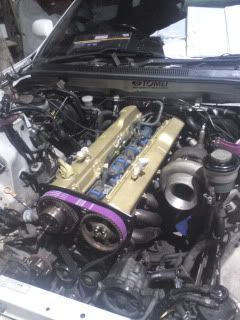 all finished ready to sort out what engine management im going to be running
This lead to the next stumbling block in the r33's life
after doing some research into ecu's i decided to go with MAP2ECU as the supras running it were putting out some serious bhp figures.
But alas the map2 wasnt playing ball with the rb25's coil pack setup and just wouldnt map cleanley and efficently
so i had no option but rethink the engines management, and this is where the Link G4 came into play
Car mapped and Mark's a happy bunny again :dogpile:
but of course that doesnt last long......... i always fancied a side inlet plenum....... so i went ahead and ordered myself a Rips intake plenum
and to go with it decided a set of rb26 cam covers would look good too so set about getting everything fitted up. (only a few pics of this stage as i got a bit carried away fitting parts
)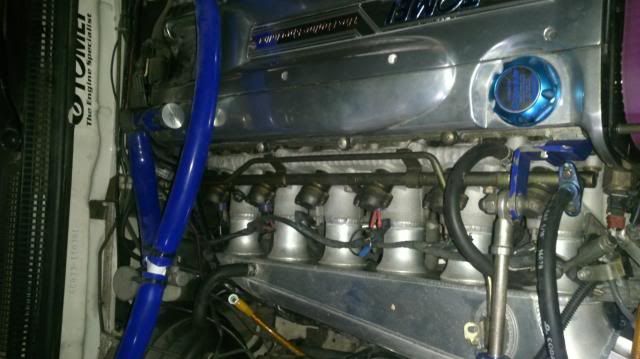 in amongst the excitement of engine work, i got myself a full carbon r33 gtr style spoiler to replace the spec 2 spoiler, looks much better i think
so engine ready to go for its next stage of setting up;
and a couple of pics of how the car was looking at that stage;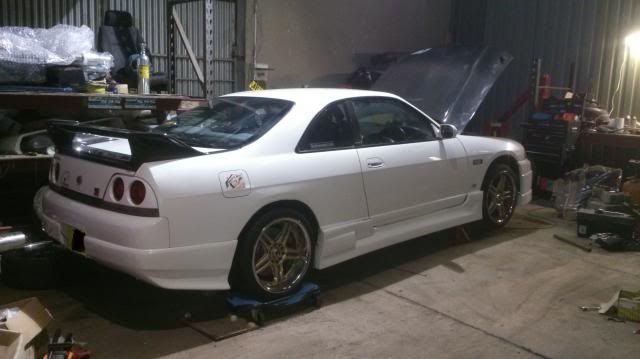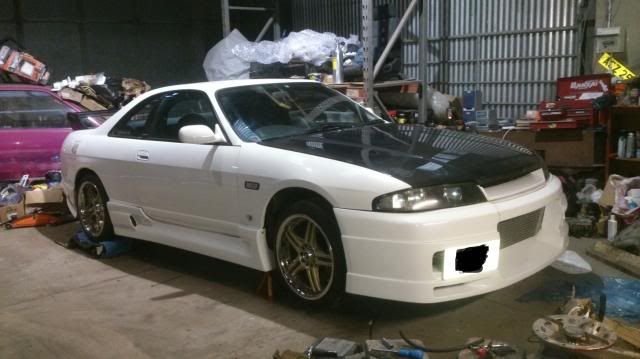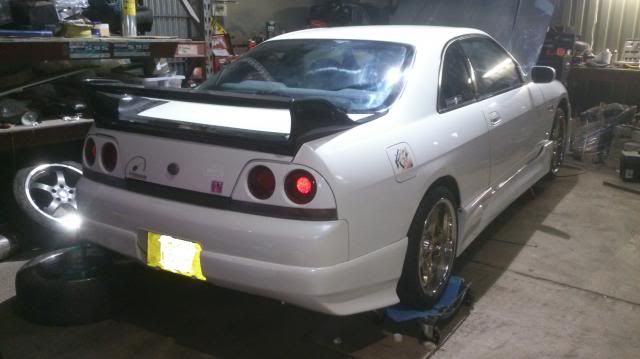 I had started to do a bit of interior work at this stage, new seats, gauges, rollcage etc;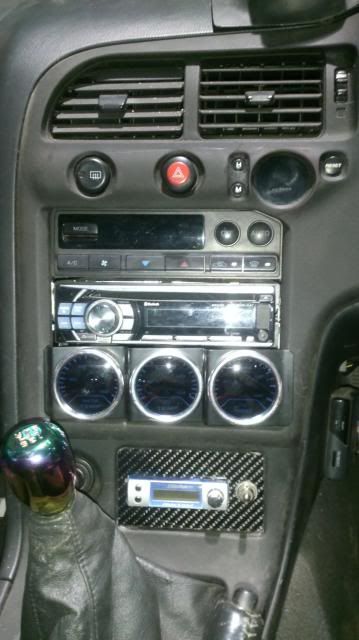 At this stage winter was approaching and i decided to wait until the warmer weather came in to take her for mapping, this however i would have quite a few months of not having to buy anything for the skyline......... we all know that probably wouldn't work out lol
so in my wisdom i decided to take this thing to the next level, fully forge the engine and go for some serious power :dogpile:
bit of internet browsing and getting quotes from what seemed like 100's of parts companies i put an order in for this little lot;
Hks gd pro triple plate clutch, head drain kit, piper valve springs, hks cam gears, RC 1200CC top feed injectors, hks ssqv 4, 2nd walbro fuel pump, new water pump, extended crank collar.
hmmmm ill need a few other bits and pieces to get the best from the above package, sooooooo, this happened;
86.5mm cp pistons, 11.0mm greddy fuel rail, nissan n1 oil pump and oil pump gasket, arp head studs, cometic bottom end and head gasket kit, nissan core plugs.
Looking good but the rods were missing from the order, shortly afterwards my Manley conrods arrived
no pics unfortunately of them.
Next mission was to get the car up to my mechanic to get the above bits and pieces fitted and the link g4 mapped for the 1200cc injectors so i can start the run in miles
Few pics of the engine being built;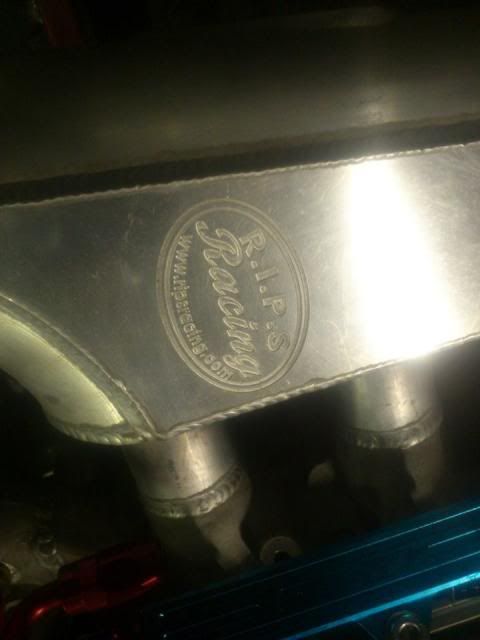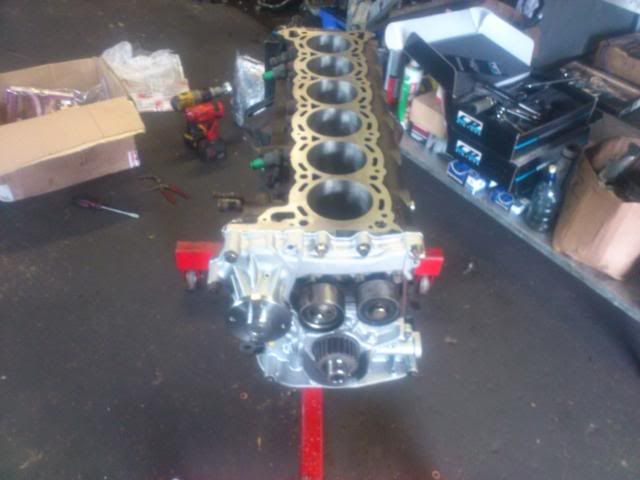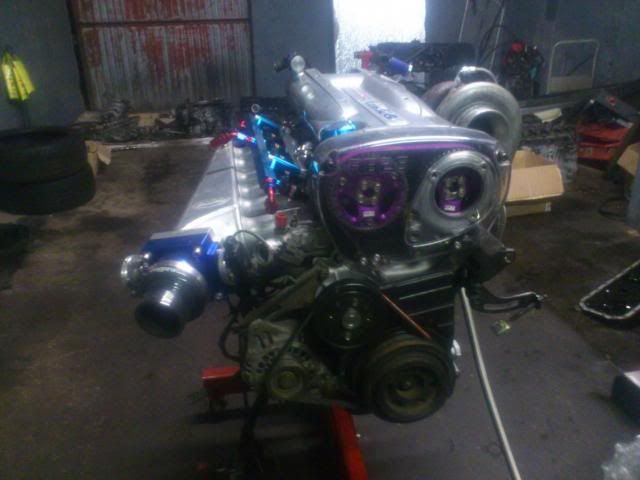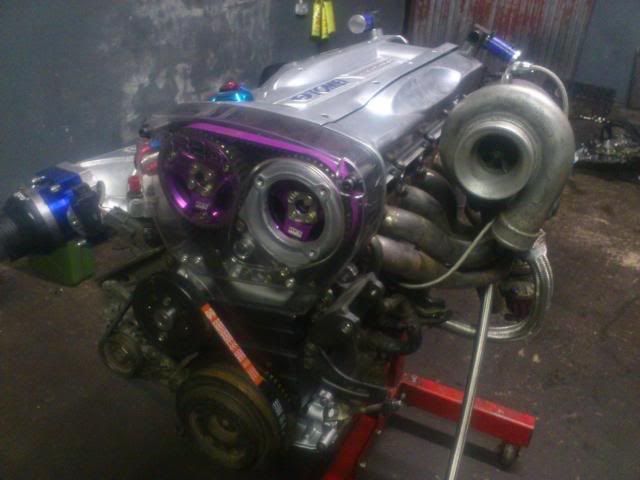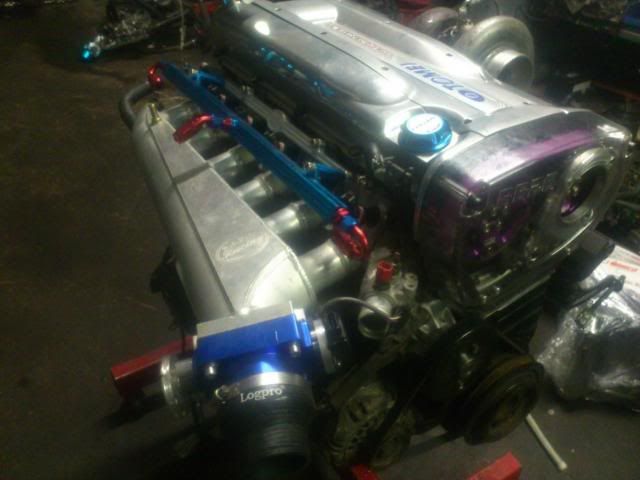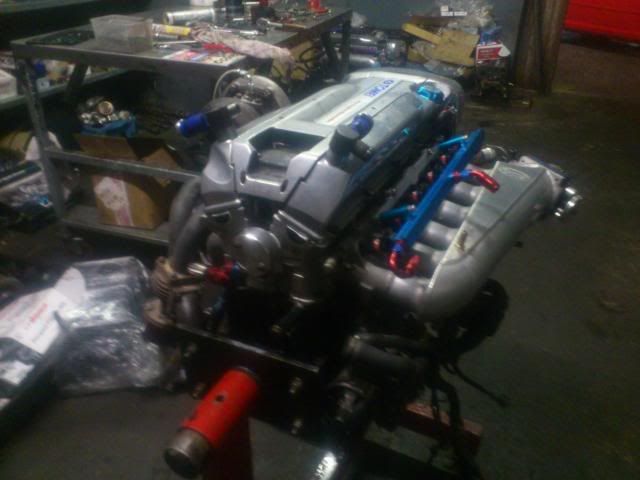 That brings us up to pretty much the present day Ive the run in miles and the cars currently up with Richard to get a few other bits added and tweeked before he puts the final map on her and i can have some fun in it this summer