Discussion Starter
·
#1
·
i would like to get to know you all so i thought i would share my 200sx build with you all that i started last week and is 80% done now ill post pics in a few days.
basicaly i started off with a 200sx s13 with a blown engine and a few dents and dodgy paint work, i removed the old engine and gearbox and subframe and striped out the engine bay compltely to paint.
at this point i decided i would need a donor skyline and after a few weeks of searching every were i see a salvage skyline gts-t at universal salvage, so the same day poped down to sandy to become a member, and the following week i went along to try win it in there auction, i had a budget of £3500 for this complete project, i was thinking around £1500 to get a salvage skyline and i keeped getting out bid by another gentalmen and he gave up at £2300 so i won it for £2500 witch was more than i wanted to pay but never mind it only had 69kmh on the clock (jap import) so a 40k millage.
i got this home a few days later and began to strip it down to a bare shell as i needed loads of the running gear and the full wireloom and ecu ect.
my 1st mission was to get the skyline loom into the 200sx witch wasent that bad a job, i linked the 2x looms together,also monted all the earths and linked the ingition switch wire together too.
i then wanted to get the engine in place,so i fitted the 200sx steering rack to the r33 cross member then lifted the 200sx shell over the rb25det engine and gearbox and lowerd the shell back onto the axle stands,then lifted the engine and bolted up the r33 subframe to the 200sx shell,i noticed the gearbox mount was 50mm away from the 200sx gearbox mounting point,so i made a template to take to my engineer to be made out of thick metal.
i next went to bolt the 200sx anti roll bar up that also never fitted and was hitting th sump, so ive put that aside to have a spacer made these bits i get back tomorrow to fit.
my next mission was to convert all the hubs from 4x stud to 5-stud (bigger selection of wheels avalible)
this was a fairly simple job i basicaly swap the rear hub carriers from 200sx to r33 witch was a simple swap along with the rear calipers.
the r33 diff and drive shafts also had to be fitted to keep the gear ratios and was also a basic swap apart from the rear diff covers (mounting points) needed to be swap i had to use the 200sx s13 rear diff cover on the r33 diff, after i swaped them i swaped with a bit of a struggle as the diff`s aint light!
as for the fronts, i had to use the 200sx s14 front hubs, along with a set of s14 ball joints pushed into the s13 arms.
then i fitted the r33 discs and calipers to the s14 hubs and rear r33 hubs.
after i got that far i had to messure the propshaft to be made witch i took the 200sx and the r33 propshaft down to bailey morris in st.neots to be modified that will be ready to be collected in the next day or so was quoted £180 + vat.
in the mean time ive had to go to my local scrappy to find some electirc fans as the viscose fan wont fit in the engine bay and to add it was damaged in the crash it was invoved in along with the waterpump pully but im currunltly looking for a 2ed hand waterpump pully and cambelt cover and the 4x little bolts in the vvt sproket as they seem bent, so if any one got any of them please pm me.
any way bk on subject i got some leci fans from a 306 to mount and wire up via relays witch is also now done, i trail fitted the s13 radiator witch fits fine just i want a bigger one so if any one also has a gtr radiator let me know.
i wired and repiped every think back to the r33 engine and fitted the r33 ecu i had to change the throttle cables too as the s13 one was to short and i fitted the brake servo and clutch master and slave cylinder from the r33 just for fun,lol.
when i was bored the other day i also decided to fit the R33 speedo and front seats but i need to make a braket for one mount on the rear of the seats to get them fitted propley.
i get my gearbox mount ect tomorrow so ill go ahead and fit them parts.
oh forgot to mention i brought a r34 gtr intercooler tonight witch ill fit this week but i still will need intercooler pipe work if any one has some spare laying about.
i also started on the exhaust system and to my surprise it fits down to the 2ed silencer with i cut here but i need a 3" decat and down pipe and i plan to use the s13 3" cat back system witch ive also not yet found 2ed hand.
so far the cost is:
200sx s13 shell £500
skyline gts-t salvage £2500
paint and degresers £50
extra tools £30
r34 gtr intercooler (recored) £80
s14 front hubs and ball joints £100
wiring bits £20
walbro 255 fuel pump £45
propshaft £200
gearbox mount £30
anti roll bar bracket £30
hks turbo timer £50
NEED:
cambelt cover £
water pump pully £
4x vvt bolts £
gtr radiator £
intercooler pipe work £
3" down pipe + decat £
200sx cat back zorst 3" £
200sx s13 coilovers ...end of july £350
bodykit £450 (when i find more funds)
respray (in rusty gold) £800 (need funds)
feel free to ask any questions on this if you want more details
the 200sx s13 project:
the skyline donor car: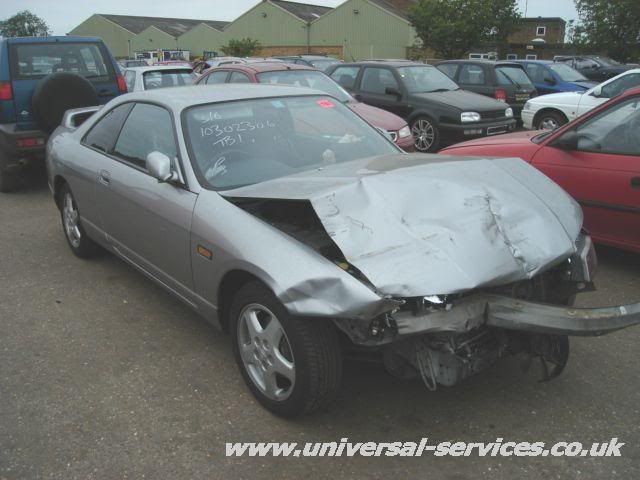 engine in the skyline:
project pics:....
200sx old brakes on 4 stud:
striped interior of the 200sx to remove and fit wire looms: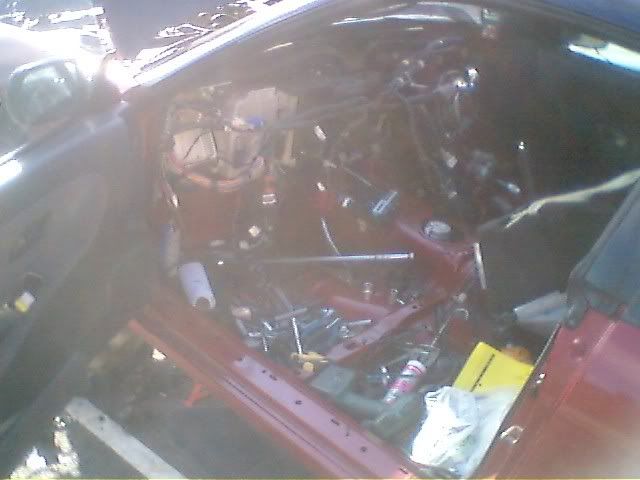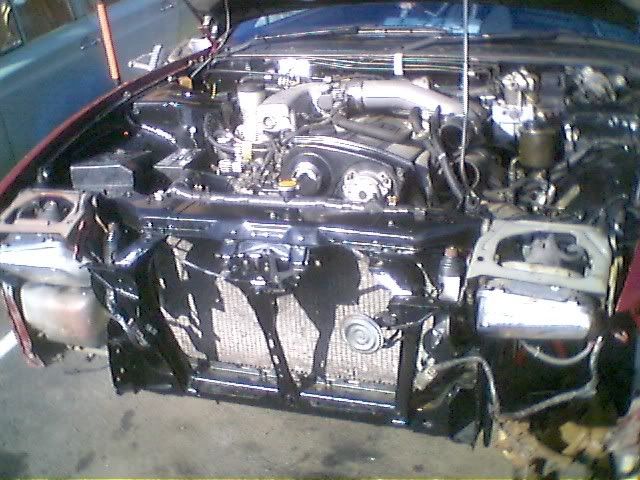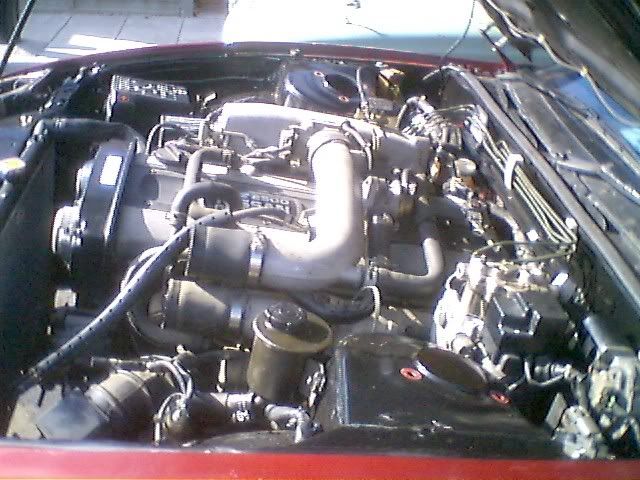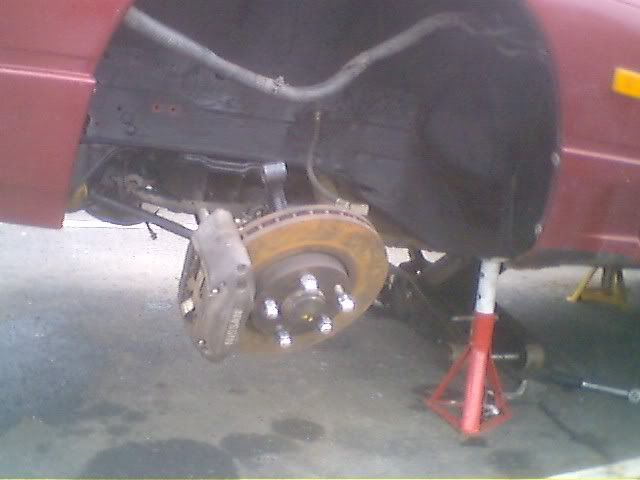 now with electric fans:
theres a load of pics to keep you intrested waiting on parts now,lol so if any one got any bits im after let me know!!
i dont get my gearbox mounts now till end of the month about the same time i get my coilovers,should be able to collect my propshaft today though