I bought Paul GTS-T's spec 1 on Monday (previously owned by Neils Skyline), and thought I'd start my own project thread for the car, firstly since I've found this car isn't perfect, and secondly since coming from my modified MR2 turbo it simply isn't fast enough as standard.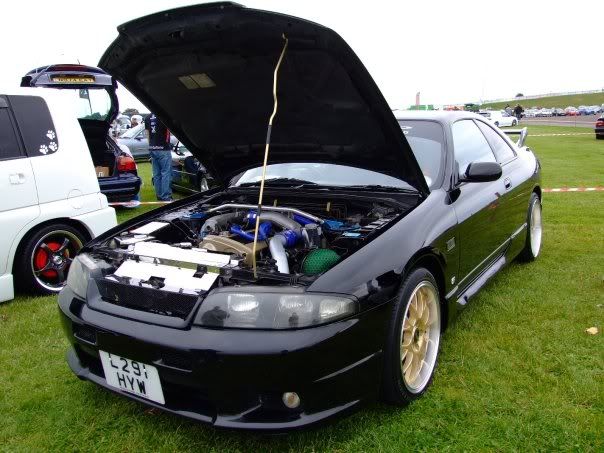 Here's the stuff it already has:
18inch Gold Ultralite Nurburgring Alloys, Falken 452 tyres, 255/35/18 rear, 225/35/18 front, HKS Induction Kit, HKS Turbo Timer, NGK Iridium spark plugs (heat range 8), Spitfire coil packs, Blue Silicone breather pipe kit, HKS oil filler cap & radiator cap, Cusco Front Strut Brace, Stainless Covers in engine bay, Powder coated Cam Covers & Belt Cover, Exedy 400bhp clutch, Japspeed Cat Back Exhaust and decat, GTR bootlid and spoiler, Smoked Side Repeaters, Clear Nismo front repeaters, Window tints on back 3 windows, Aftermarket Front Bumper (GTR replica?), red stuff brakepads, Calipers painted red with white letters front and back, GTR front and rear seats, Auto Gauge boost pressure/oil temp gauges, Nismo GT500 shift knob, Momo Steering Wheel, GTR Custom made mats, and whatever else I've missed.
Now for the stuff that I've found wrong with it so far:
On the test drive the engine was tapping when cold, but cleared completely when warm so assumed it might need new hydraulic lifters or something as the oil pressure reading looked good, so knocked him down on price a bit to cover the cost of bits. Drove well though, so still bought it. Got close to home though and the aircon pump disemboweled itself, which made me think the bottom end was buggered until I was able to check in daylight the next day. On the drive home I also found none of the dashboard lights work apart from the cluster itself, so I'm going to have to rewire the dash to make sure it's all okay. I had the centre console out while fitting my head unit yesterday, and found chocolate block connectors EVERYWHERE, and not just for the head unit wiring either so that'll be fun to put right again. The GTR bootlid doesn't appear to have had the car's original lock fitted to it, so now the car's key won't open the boot. I've also found it's using oil that's far too heavy for the standard engine, which could explain the tapping valvetrain when cold and should be changed ASAP to avoid causing any damage if it's not happened already. It's NEVER been undersealed even though it's been in the UK since 2006, and I'm also not sure that the plugs are the right heat range which won't help things either. I also want to remove everything that says GTR, like mats, the side cover bits on the boot spoiler, etc too. Oh, and it also needs a new bonnet stay clip.
Hopefully I don't find anything else, but when I get the above things resolved I'll be starting to modify it. Firstly I'll remove the turbo timer since I take it easy the last few miles anyway so it isn't needed, it interferes with the anti-hijack of the car's alarm meaning the doors won't unlock until the engine turns off, they're illegal anyway, and they just look crap stuck onto the dash. Then I'll get rid of the cheap auto gauge gauges and A pillar pods and figure out a more discreet place to fit a decent boost gauge (replace the clock maybe?). Once that's done, replace the crappy foam hks filter and fit something like an apexi instead, make a cold air box for it, source a better intercooler and maybe a side feed intake manifold, increase the boost to 10psi for the time being as just 7psi isn't enough at all, and then when I get more money together I'll be getting a better turbo, fuel pump, remappable ecu and turn the boost up properly. I may also fit an auto rear diff to shorten the gear ratios a little since it just doesn't accelerate as quick as I'm used to. I don't need to go over 150mph.
I'll keep adding posts when I do anything, just going to concentrate on getting the car right first...