Discussion Starter
•
#1
•
Hi I have had my GT-R for a little while now, but never posted until CA finally told me I can keep it LOL.
I own a 1990 Skyline GT-R here in the wonderful state of CA....
I bought the car from IVI, and have to say Sean has been very helpful every step of the way with my car. After purchasing the car from IVI it was sent over to G&K auto to be made smog legal in CA. It was a long and expensive process, but well worth the wait. The only hic-up I had with the car is DMV paperwork. And from what I have been reading, the DMV in any state likes to be asses when it comes to our short VIN numbered cars. I will say though Maja at the Direct Import Division of the CADMV was very helpful and with in a matter of a few weeks the paperwork has been cleared up. I now have a clean Pink Slip in hand with valid registration. Although I am still waiting for my license plates, which they insist I have even though I don't. Their response, "if you don't get your plates by the end of December just go to your local office, and for a FEE we will replace them."
The car is pretty much stock. Sean was awesome in making sure my car was ready for G&K. Since I have owned the car I have put about 3,000 miles on it, so I did the standard maintenance on it. I have replaced all the fluids with Red Line Synthetic, and installed a Nismo short throw shifter. While it was up on the rack at my work I noticed it needs front CV boots and steering rack boots, so that is next on my list of things for the car.
I do have one question about the car. Ever since I picked up the car from G&K it idles at 1100 RPMs which seems high for the car. I checked the idle screw and it is backed all the way out. I have taken chemtool and sprayed every vacuum point I can find looking for leaks to no avail. I did recently remove the boost restrictor and gained a bad miss under high boost and higher RPMs (about 5k)that the car never had. I have since checked the timing, and G&K had it bumped to about 27ish degrees. I retarded the timing to stock 20 degrees, and the idle is still 1100 RPMs. Sean had mentioned for the Smog a 8 heat range spark plug was installed. I have a set of 7 heat range plugs coming for the car. I also have a new coil harness, and coil boots for the car. Been trying to do my homework on it before I throw my hands up and turn it over to an expert here in the Bay Area. Any suggestions are greatly appreciated. Thanks!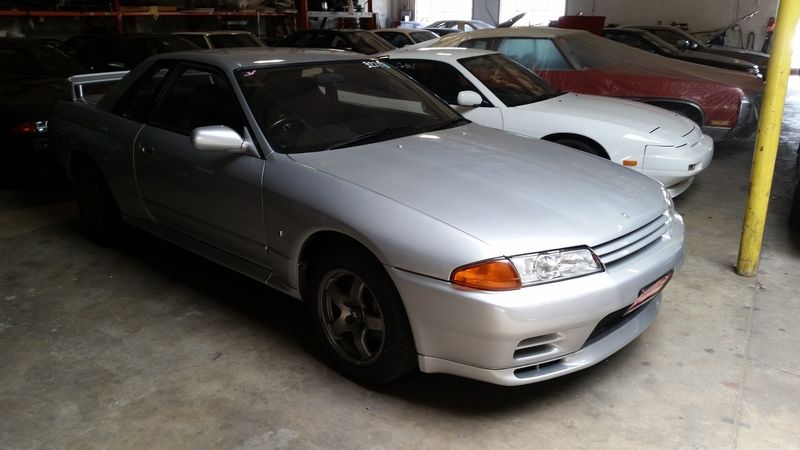 The cat converter installed to make it pass.... if you look at the down pipe you will notice two little cats right before the main cat