Discussion Starter
•
#1
•
Well then...I figured since I've owned a Skyline for the last 7 years and I've now had my R34 for 2 of those years, I should probably do a project thread. I know the name isn't particularly original for a yellow car, but my Mrs likes the Transformer movies and it's the nickname that we've both used since I bought it
Anyway...I kind of cheated when I bought this one as the previous owner had done A LOT of work and had spared no expense (cos he was rich) so although it goes against the "built not bought" theory, it has saved me a lot of time and money and was done pretty much how I would have....More or less.
So this is how she looked when I bought her: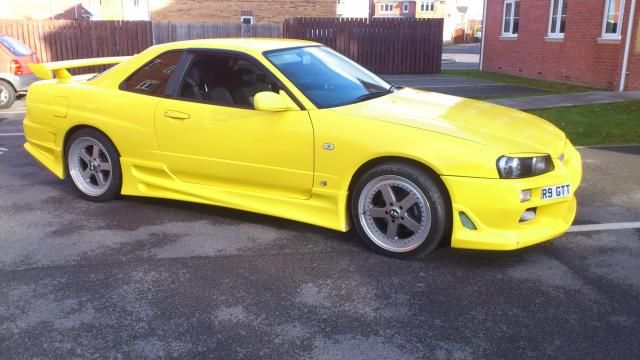 Engine Bay (only difference is the battery that I was test fitting at the time...Hence the crazy cable routing):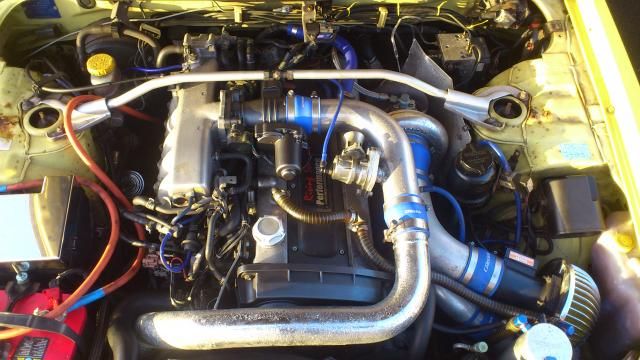 First thing's first...Get rid of those horrendous headlight brows and wind deflectors and stick on a carbon fibre bonnet:
After this I had to go to Afghanistan for 4 months so the car obviously didn't move or have any work done. On the plus side though, it means when I came home I could pay off all my debt and have a bit of spare cash to play around with
So I decided to tidy up the engine bay as it looked a bit of a state. A lot of the chrome on the pipework was peeling/flaking off, the silicone joiners were faded and the intercooler and oil cooler had definitely seen better days. I'm also a bit bored of the silver and blue look as it seems everyone does it so I wanted something a bit different and in the end I went for stealth black with a contrasting green
Brand new Mishimoto FMIC, Japspeed alloy radiator, all pipework removed and powder coated, all new silicone joiners (Mishimoto and JS Performance), new vacuum line kit, new JS coolant hoses and then the oil cooler and all the brackets (FMIC, headlights etc) were removed and painted black.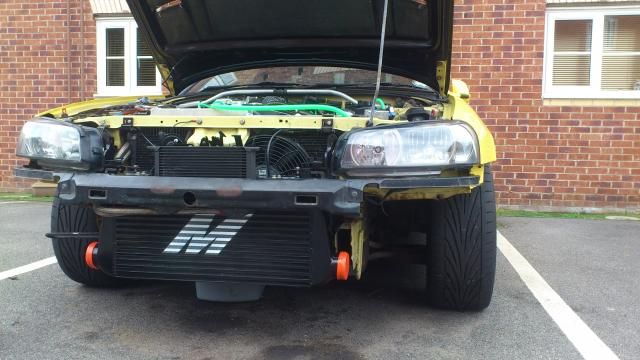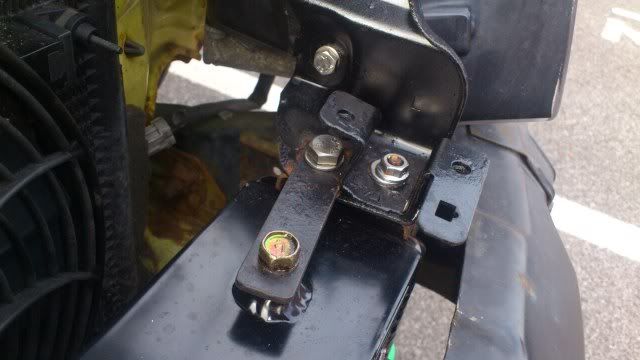 This was the end result...
This is how the car stayed for quite a while, until this year when I decided to take the car to its first show and realised that the wheels really let the whole thing down. I've never been a fan of the wheels that are fitted (Panasport G7's) but unfortunately funds won't allow me to fit the Rota GTR's and GTR-D's that I want. I thought as a temporary measure I would get the wheels powder coated to freshen them up a bit and thanks to Davie's photoshop skills, I knew what colour to go for so this is how the car looks now...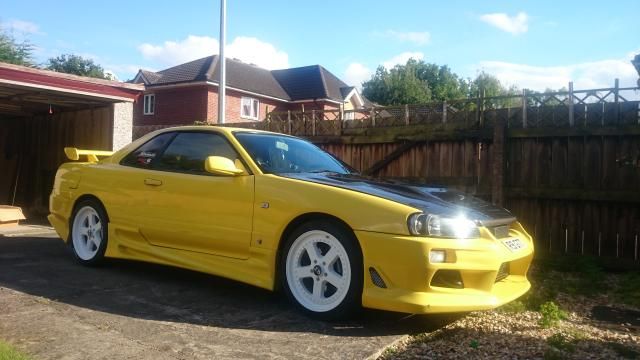 I got bored of having nothing new to do so I decided to make a cold air feed and heat shield for my air filter so I "relocated" some stuff from work and got crafting: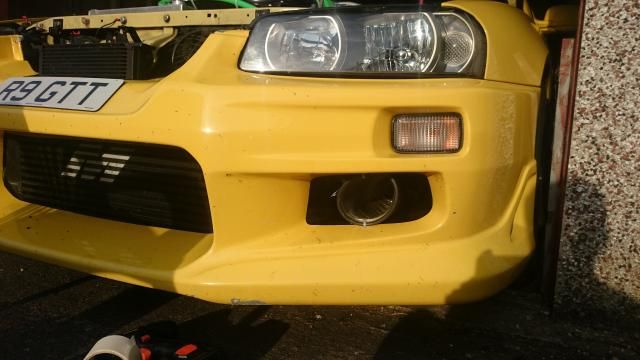 Just for a bit of scale...Beast!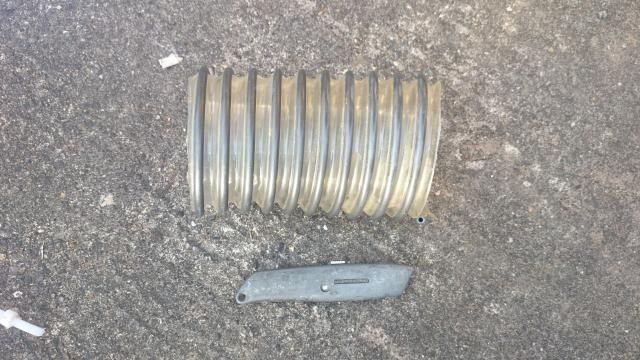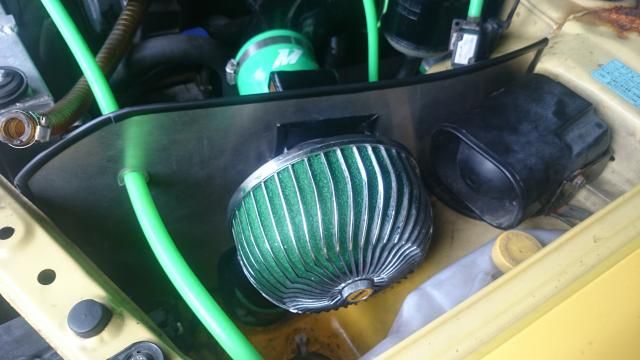 Now this was done, I got bored again so I decided to start the prep work on my boot as I plan to make a little ICE install at some point and use the spare wheel well as a sub enclosure so that meant stripping everything out, removing and treating any rust and then getting some rustproofing paint down.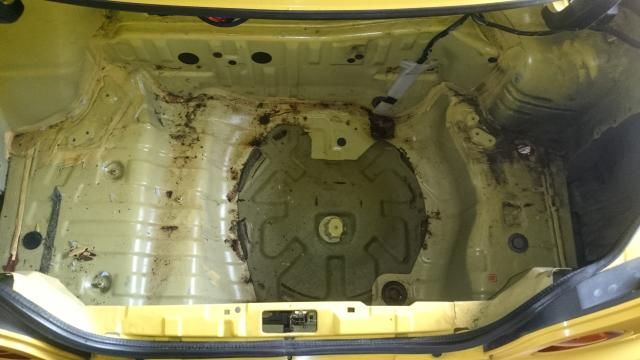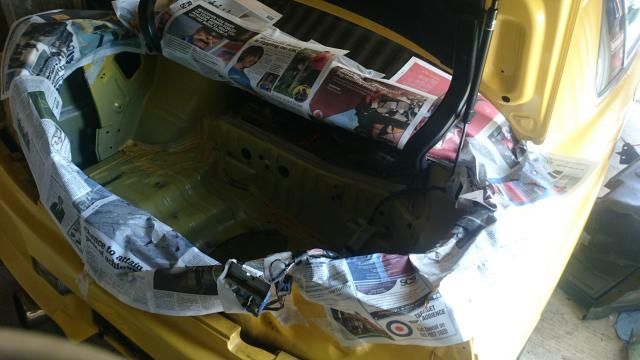 Done...
So that's how the car stands at the moment. 517bhp of slippery fun
Today was the last day of the car being on the road as I am planning on doing a lot of work over winter so I figured it was pointless renewing the insurance, tax and MOT. This is the real reason for starting this thread now as I'm hoping to transform the underside of the car and get back to driving in the nicer weather
Thanks for reading/scanning through the pictures