Just done this job, it free's up a bit of space, just right for a oil catch can, plus I'm told they don't last much longer than 100,000km so most will be past their sell by date. Oh you could always replace it from Nissan but you'd need to re-mortgage your house
BTW This is an R32, I'm pretty sure it is relavent for 33's and 34's too, let me know if not...
Any way on to the removal, very simple so any one with some tools can attempt this.
1) You'll start off with something like this, excuse my engine bay being in such a state but I'm in the middle of several messy jobs.
2) Pull off the top 3 pipes and losen the 10mm bolt that holds the canister.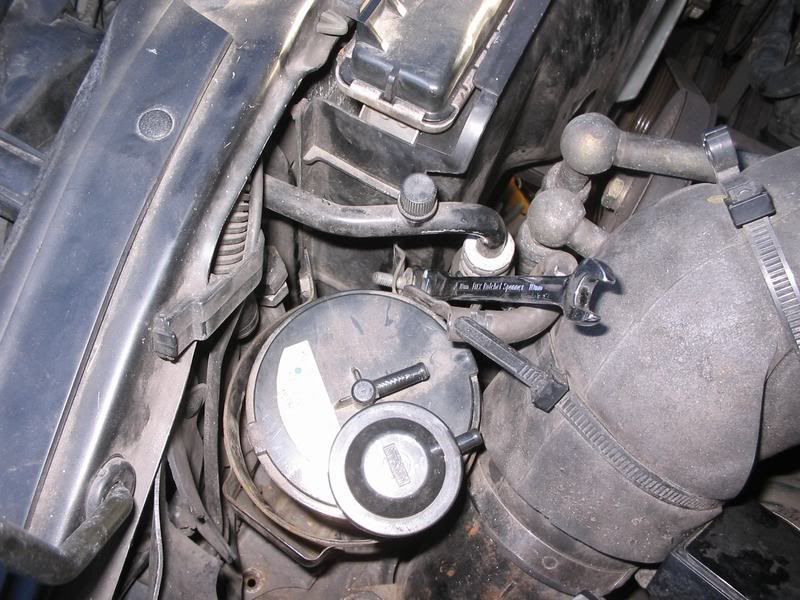 3) There is one more big pipe under the canister, you can try and disconnect this from the tube that runs in to the chassis rail but it's awkward, I just pulled the canister up and the pipe popped off any way, that's the canister removed. Next to the canister there is a 10mm bolt and 2x10mm underneath, remove those and the whole metal bracket comes free.
4) Now on to removing/blocking of the pipes, the two circled in green can be removed completley from just behind the top timing belt cover. This can be done without removing any of the IC piping, it's just that mine is removed due to other stuff I'm doing.
The one circled in red is the fuel tank vent and needs to be left open as it is, considering a small amount of fuel vapour will escape here I'm going to advise you extend this pipe down to the bottom part of the engine for purely safety reasons, personally I feel the location I have it on the IC pipe is fine, it gets enough air past it and the vapour really isn't alot now it's not getting sucked out, I'll leave it up to you to decide, if your in any doubt/can't decide route to the bottom of the engine. (you can remove the metal clip)
5) On to the other side of the engine, is where one of the pipes leads to, losen the metal clip then pull the ruber tube off and cap this off with whatever you feel best, I've used a bolt for the moment, you can then cable tie this tube to some where suitable/the other rubber piping...
The other pipe leads to the front throttle bodies, this again can be pulled off and capped.
And that's a good job done, I also removed the foam around the IC piping to clean things up a bit further, you should be left with this little lot that used to clutter your engine bay