Discussion Starter
•
#1
•
To anyone who hasn't seen
the other thread
where my bodykit is being cut and rebuilt so it fits... I bought a load of fibreglass parts to fit on my car and am totally shocked at the (lack of) quality and customer service.
I ordered parts from:
Knight Racer
- 400R front bumper, grill, vented wings and side skirts.
JDL
- A rear 'overbumper'
The GTR Shop
- I ordered a set of GTR Overfenders.
Japsalon
After DaveW of GTR shop kept fobbing me off I told him to cancel&refund and ordered another set from
Japsalon
.
JDL
first... had to chase as didn't hear anything for a while but they answered my email VERY promptly and provided me with a tracking no. for the parcel coming from Germany. Part came well packed and fit was great.
So credit where its due - Thanks guys, thats how its done! :bigthumb:
The GTR Shop
took my money but then kept fobbing me saying it was too cold to make the overfenders or anything out of fibreglass. (What they don't have heaters up norf?) And despite promising later dates, they just kept missing their deadlines which left me losing my £60 deposit at a bodyshop.
Then Dave stopped replying to calls or PMs so I left a message on the forum saying to cancel and refund my paypal money as I had ordered a set from Japsalon instead. A week AFTER this he made and sent them anyway, still without any communication. :wtf:
So the set I ALSO ended up with from
Japsalon
came damaged as they had just been put together, wrapped in cardboard and sent. They had been crushed together and generally the quality was poor anyway. Gary said he doesn't see why he should refund me and be out of pocket and that he would send me another set instead which I would then have to sell myself... Still waiting for these and Gary has also gone very quiet.
And finally, we have a 'winner' (for crapness)...
Knight Racer
.
Grill - was for a Spec1 - I have a spec 2, as they know as they also supplied a Spec 2 carbon bonnet for me.
Front Bumper - made in 3 sections and bonded together - VERY flimsy and a poor fit. When the bodyshop questioned its not fitting (thinking it might be a GTR instead) they just said the bodyshop are crap and to screw the middle in first then FORCE the sides in and screw. :wtf: I could hear the cracking and creaking as they tried that. :nono:
Also the fit is piss poor around the lights which is apparently because these are Spec1 only. Which they "make very clear in all their sales literature". Can you see it on their website? Have checked and doesn't say.
Vented wings were from the 'super duper fitting new batch', which (suprise suprise) didn't fit. One side was MADE to fit by cutting, trimming, etc. but the other side was beyond even that. Again, criticized the bodyshop and me for "not storing them properly causing them to warp". I sent pictures showing just how bad they were and they eventually sent a replacement as "a goodwill gesture". The bracket on the fitst one was too long and in the wrong place which def CANNOT be caused by "not storing them properly". :nono: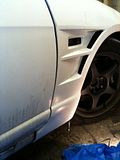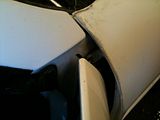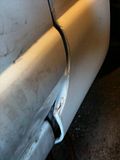 Finally the side skirts... What can I say about these gems? 'Poor fitting' would be a HUGE understatement. The bodyshop laughed and said I had more chance of fitting these on my van than the car! If they were lined up with the door shuts then you couldn't close the door and the front and rear were MILES out.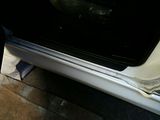 The car has had to go to a PROPER trader,
BHP Auto
(Myki), who DO know what they're doing with fibreglass, to be CUT UP and FULLY REBUILT so they'll actually fit a Skyline.
SO... after the thread in BHP Auto's section, showing how bad the fit is, I've had LOTS of PMs from other peeps saying they suspected it was Knight Racer and have had the same probs. VERY poor fitting parts and an even poorer attitude blaming the bodyshops all the time. I think its reasonable to expect a little 'finishing' to be done to get the parts ready for paint but the cutting and rebuilding is WAY outside of this and they are charging a LOT of money for very poor quality parts that simply don't fit. :nono:
There seems to be an attitude of acceptance from people that fibreglass parts won't fit and will need a shedload of work to MAKE them fit. WHY??? Speaking to fibreglass professionals I find that there is no excuse for this. Parts made PROPERLY will be the right shape to go straight on and won't sag or warp. These companies are using moulds of moulds and some of these coming from China, etc. with little chance of actually fitting.
I think people need to speak up, stop accepting this rubbish and either get Knight Racer (and others) to stop sending out crap or just vote with their feet, and money, and use better companies.
There ARE lots of GREAT traders on here that I regularly use... RSP, Apex, Japspeed, BHP Auto and Temple Tuning to name a few... Why can't they ALL be up to their standards?
So anyway... I'd love to hear from others and their experiences of fitting fibreglass parts... Do you think its reasonable that parts don't fit and need to be cut and rebuilt? Know of any better companies?
Thanks for reading.
Chris ~