Hi there peeps well I bought an R32 4 door a couple of weeks ago, bought it with a knackered engine, it was the 2 litre non-turbo automatic when I got it. I'm now in the process of converting it to a single turbo with a manual gearbox
first of all I had trouble getting the engine and box in properly! Turns out that the mounting position for the gearbox is an inch and a half difference!! Baffled me for a while til I sussed it out!
But now ive managed to get the engine and box in the car after fabricating my own mounting, just need to swap the ends of the propshafts over now because they're different too, ones shorter than the other! So I'm hoping that by tomorow i'll have it all done, the running gear side too it that is. Then once ive done that I'm gonna then get on with changing the suspension over to coilovers, there's the exhaust to change too, ive got a full Fujitsubo s/steel one that am gonna throw on it, not too loud but not so quiet either!
Not sure whether I'm gonna change the colour of the car from white, was thinking of something like canary yellow. Gotta change all the braking system on it too, cause at the mo its still on the four stud hubs and it really wants to be on the five stud ones.
Heres a few pics of the progress ive made so far, this is the car when I first got it in the garage:
Then got the engine out:
And the gearbox:
Then removed the engine and gearbox from the donor car:
And onto putting it into the 4 door:
This is the OS Giken exhaust thats going on it:
Changing the pedals set up:
Well its been a couple of weeks now and shes all done and on the road, 12months mot on her and 6 months tax, just so I can take her out for a run legally as she gets built into a drifty
Few pics of the finished product, next thing is to get a nice kit on her and then either shove a 25 or a 26 in her for the drifting!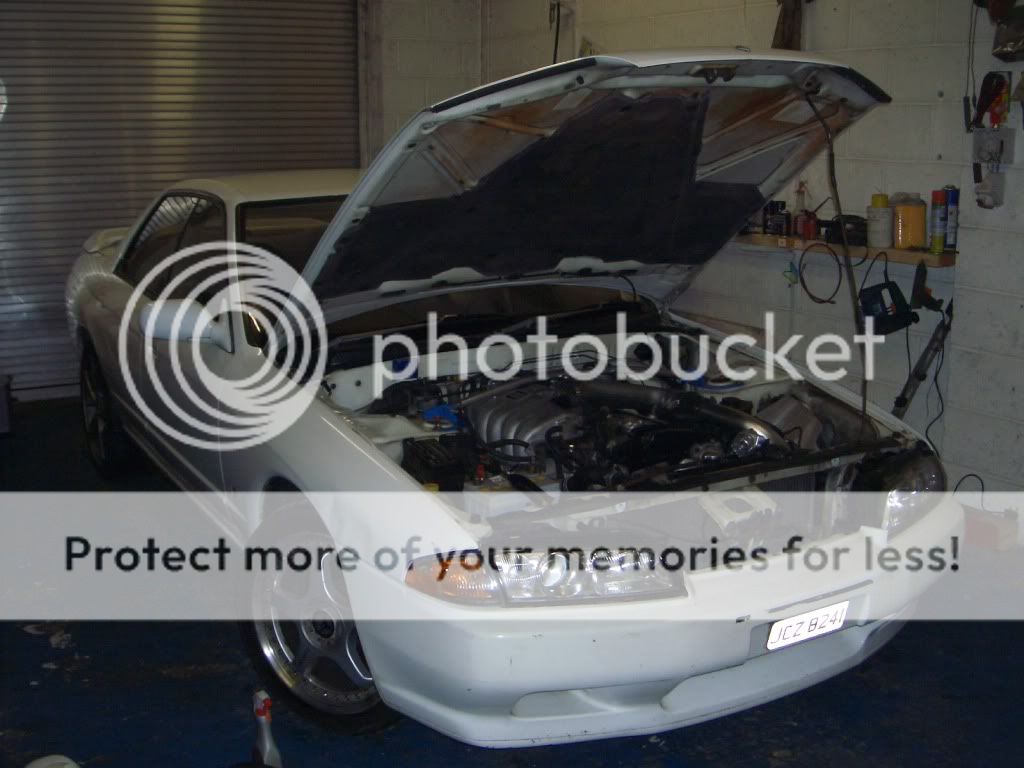 Well got a bit more done to my car today, whipped the rear subframe off so I can put the Gtr running gear on it
and plus with it originally being a non-turbo skyline it did'nt have the silly hicas set up on it, so ive kept the original subframe and just swapped everything over onto it, or should say am in the process of doing it. And as for the bodykit they only seem to do the Uras type one which Im not that fond of! So am gonna get Replikit to make me a one off
Here's the subframe being taken off the four door:
And then removed from the car:
Then started swapping parts:
I'll keep the thread updated on progress