Happy to say I've improved on the other solder pad conversion method and got this working spot on on my 180kmh speedo.
No matter what you read elsewhere, leave J2 and PESL alone, as messing with them causes the ecu and HICAS to only see half the true speed. Some cars have J2 already bridged, others don't, so messing with it can affect speedo sweep. If it's there it's there, if it's not it's not, just leave it alone. They're set like that for a reason, so don't touch them. Before anyone starts arguing, I've proved this for certain via consult.
Remove J4 only, as this converts the odometer reading to mph by altering the signal by 1.5. The remaining 0.1 difference appears to be taken care of by my size of wheel. The signal to the ecu and HICAS remains unchanged.
Next, I calibrated the sweep of the speedo with the pads. Adding solder to the various pads reduces speedo sweep, and the lower the pad number, the less it influences the sweep. Mine's a manual with 18 inch wheels and 35 profile tires, so I bridged pads 3, 4, 5, 7 and 8. If any others are bridged, clean them off so there's no continuity.
Here's a couple of pictures to show you what I'm on about doing:
Here's a picture of the back of the speedo unit before I modified it. The areas of interest are circled in red, the J4 link and the calibration pads.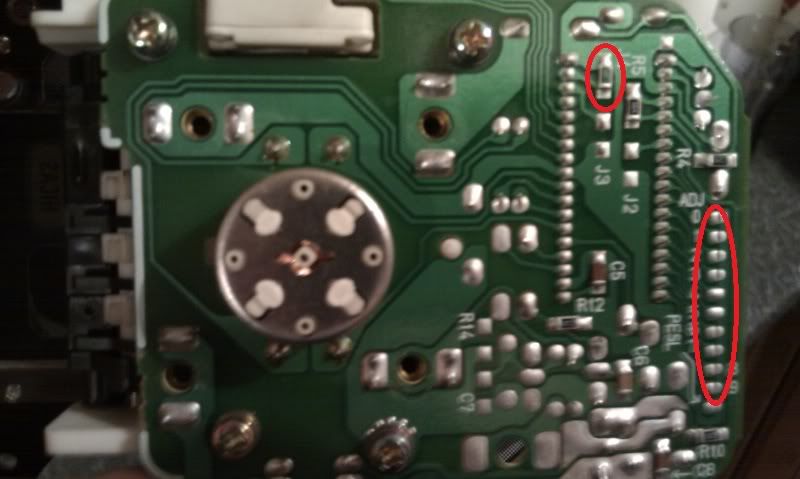 And here it is afterwards, with J4 removed to convert the odometer to clock up in miles, and the relevant calibration pads soldered to change the speedo sweep into MPH for a 180mph dial on a manual gtst with 18" wheels and 35 profile tires: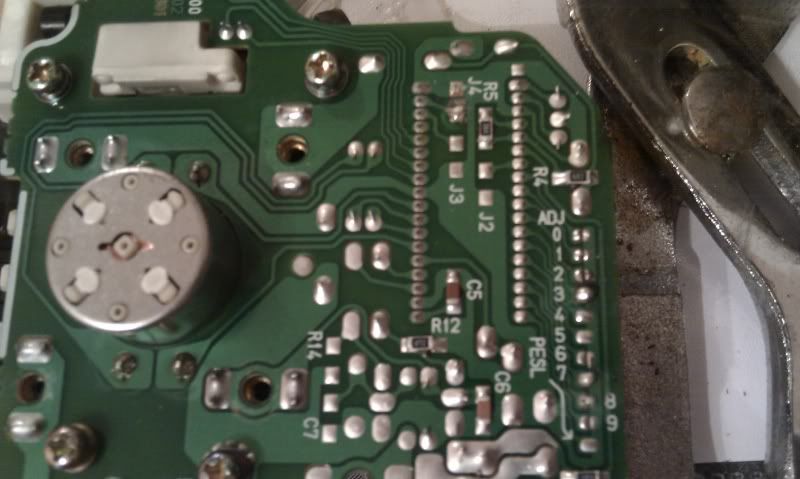 Doing this has resulted in an indicated speed maybe 1 or 2 mph above what the gps reckons, the odometer and trip counter is near enough spot on, my abs still works perfectly and the ecu and HICAS both get correct speed signals. Far safer than the HICAS thinking you're going half the speed and it deciding to turn the rear wheels when they shouldn't.
The only downside is I assume the speed limiter is still in place. Can't prove it as my car is currently riddled with flatspots above 5k rpm until I get a new ecu. But the way I see it, if people have kept their skyline standard then they aren't likely to need to exceed 112mph, people who DO need rid of the limiter are likely to have modified skylines, so would have an aftermarket ecu anyway. A chipped or aftermarket ecu won't have the speed limiter anyway, hence why I don't see it as an issue.
EDIT:
A note for GTR owners is you need to miss pad 3 out to account for your different gearing. So you guys need to remove J4, and have only pads 4, 5, 7 and 8 bridged. All other numbered pads left open. Turns out ths is exactly the same as the genuine UK spec R33 GTR MPH speedo then.
Sent from my HTC Desire using Tapatalk